Armed Forces Cricket supports our charity
Published on 15 May 2023
Sportsmen from the British Army, Royal Navy and Royal Air Force joined together on 10 May at the magnificent Lord's Cricket Ground to battle it out for the Inter-Services T20 Trophy with the Army team coming away victorious. 
Meanwhile the Royal Air Force women's team challenged the home team from Lord's, the women's Marylebone Cricket Club, and won.
The tournament, which was sponsored by Raytheon UK, selects a military charity to support and this year we had the honour of being chosen.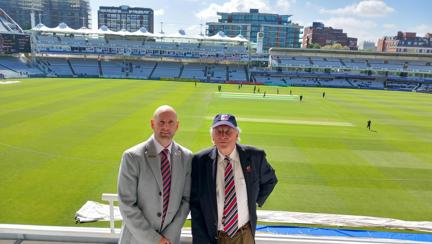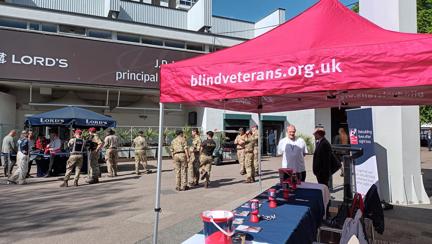 Our London based community team and volunteers were invited to set up an information stand on the day inside the ground. The team welcomed the valuable opportunity to speak to hundreds of spectators and tell them all about our charity and the wide range of work that we do to rehabilitate and support veterans who have lost their sight.
Blind veterans who are members of the charity were also given the opportunity to attend the tournament finale. One of those who went along was blind veteran Chris.
Chris, who is 85-years-old, served in the Royal Navy for 20 years and spent a further two years serving with the New Zealand Navy. Chris was discharged from the Navy as a lieutenant commander in 1979.
At the age of 63, Chris woke up on Christmas Eve and found he was unable to see from one eye. He lost the sight in his other eye three weeks later.
He was told he had suffered a stroke behind the eye that had damaged his optic nerve. He now has around five percent vision in one eye and central vision only in the other.
Having found out about our charity through a friend, Chris contacted us and started receiving support in 2012.
Chris says:
"Blind Veterans UK is fantastic; the charity has been a source of huge comfort and encouragement to me but also a lot of fun.
"I can ring my support team at any time and they will be there for me. I've had a wonderful time with the charity, they've given me computer training and loaned me an easy reader that photographs a page and reads it out loud to me and they also reviewed all the lighting in my home.
"It's a brilliant organisation and has been a life-line to me.
"I've been to many social events including their 100th anniversary garden party at Buckingham Palace and I've marched with them for Remembrance. Now I've been to this fabulous cricket tournament which I thoroughly enjoyed. I am a big cricket fan and played when I was younger."
Joining Chris on the day was our Member Engagement and Military Lead, Tim. He says:
"The T20 event was fantastic. We were delighted and extremely honoured to have been chosen as the charity supported at the tournament this year.
"Not only were we invited to enjoy a day of exciting cricket action but were also given the opportunity to share with the military community what we do and how we can help.
"We met and spoke to many men and women who are serving or have served and were able to let them know that Blind Veterans UK is there should they, or anyone they know, be in a position where they would benefit in the future from our support.
"It was a real privilege to be there representing Blind Veterans UK and to spend the day in Chris' company and to hear his stories."
Raytheon UK sponsored this year's tournament. Their CEO, Jeff says:
"We were delighted to once again be supporting this incredible event that brings our armed forces and veterans together for a fantastic day out. Bringing people together and raising money for such a worthy cause in Blind Veterans UK is really what we are all about.
"Any work involving the armed forces is close to our hearts with many of our Raytheon UK team having served and I feel it's incumbent upon us to help support our veterans when they're back home."
Director of Media and Communications for the Royal Navy Cricket Association, Lieutenant Commander Steve Blackburn says:
"We feel greatly honoured to be able to support Blind Veterans UK and were thrilled that they were able to join us at our premier cricket tournament at Lord's."