Navigating public transport with sight loss
Published on 9 Nov 2023
Travelling on public transport is just a normal part of life. However, for people with sight loss it can be a daunting experience.
We share practical information to help you plan your journey and make it easier, safer and cheaper so you can travel with confidence.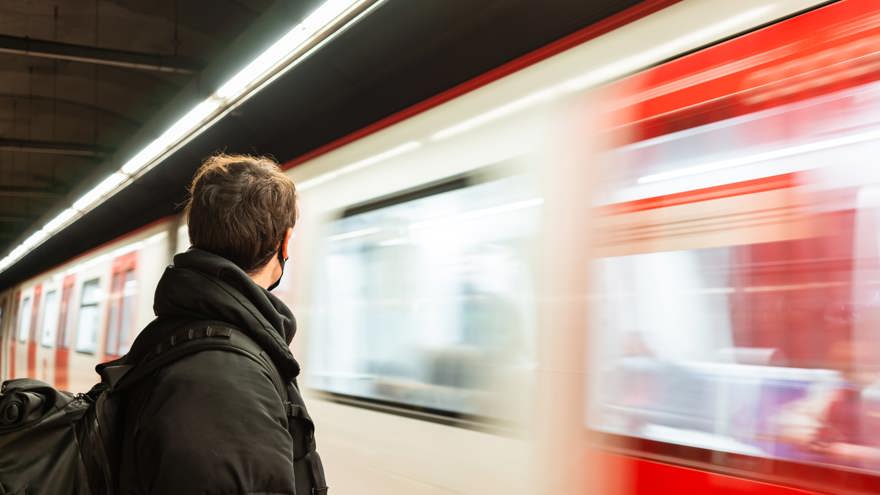 Travelling by train
Disabled Persons Railcard
If you have a disability, you may be eligible for a Disabled Persons Railcard, which can save you money on train tickets.
Check the link or call 0345 605 0525 to find out if you are eligible and what discounts you can get.
Discounts for travel companions
If you're visually impaired and need assistance, both you and your adult travel companion can enjoy discounted fares to make your journey more affordable.
Concessionary passes can be bought for a year or three years, and can be used on any UK train.
Booking assistance
If you require assistance at a station or on a train, you can book it through the Passenger Assist app. This can get you help with navigating the station, boarding the train, carrying your bags, and providing journey-specific information.
You can find a list of each UK train company's accessible travel information and phone number on the National Rail's Passenger Assist page.
You can also book assistance by phone (0800 022 3720) and text (60083).
Accessibility at the station
Many train stations are equipped with accessibility features that could be of help such as tactile paving with dotted bumps indicating safe standing areas on platforms, and audio announcements at stations.
Accessibility on the train
Once on the train, there should be accessibility features to help such as clearly marked priority seating for disabled passengers and raised markings on door buttons and toilet buttons. Most trains now provide audio notifications of upcoming stops too.
Travelling by bus
Bus passes
If you have a disability, you may be eligible for a bus pass that offers free travel at certain times. The time range covered is often slightly wider than an older person's bus pass, so it's worth having even if you already have one of those.
Check with your local bus service or council to learn when and where you can use your pass. 
Assistance from bus drivers
By law, bus drivers must assist passengers with disabilities to the best of their ability. While they may not be able to physically lift passengers or mobility equipment, they are there to offer a helping hand with boarding or exiting the bus.
You can get assistance cards from some bus companies that you can discretely show the driver, letting them know you have sight loss and may need more time than other passengers.
There are also talking bus signs coming into use now and specific access facilities available in certain areas, so contact your local bus company to find out what's in place.
Planning ahead
Planning is essential to ensure a hassle-free bus or train journey. Make sure to know your departure times, connections, and other details in advance. You find these by contacting the transport company directly or using timetables and maps.
There are also helpful apps like Moovit for buses and the TrainLine app for trains, if you are a confident technology user.
And you can get good travel help, such as bus times, from your built-in voice assistant, like Siri or Google Assistant.
Getting live timetables from Alexa
You can access live information on train and bus times from Alexa, though you will need to set up the app with your personal details in order to use this feature:
Add your location
Add your location to the app. Simply input your home address, as well as any other locations you visit regularly, such as work or relatives' homes. 
Say a command
Once you've set this up, try saying, for example, 'Alexa, how do I get to work?' Alexa will tell you what station and route you need to take, as well as the time of the next service and how long your journey will take. 
Use on holiday
You can even make the most of this feature when you go on holiday. Just input the address of where you're staying so you can easily access all the local travel information. 
Contact details
When you travel – especially on long or complicated journeys –it's a good idea to keep the contact details of the train or bus company with you in case of any issues during your journey.
Tell a friend
It's also wise to inform a friend of your travel plans, so they can contact the train company if something goes wrong.
Call the station
Additionally, consider phoning the station on the day you travel to make sure everything is running smoothly and any necessary lifts are in working order.
Be polite!
And it's always good to remember that, even if you don't need assistance, the next person might, so be polite in turning down any well-intentioned offers.
Highlighted content
26 Oct 2023
A step-by-step guide for anyone who wants to learn the best way of guiding someone with sight loss.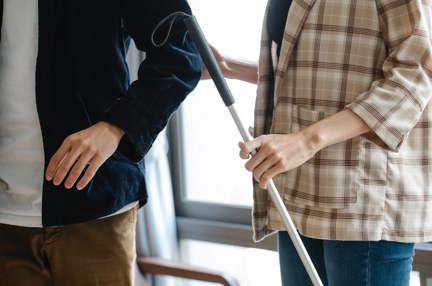 11 Oct 2023
An overview of this familiar device for empowering people with sight loss and navigating the world safely.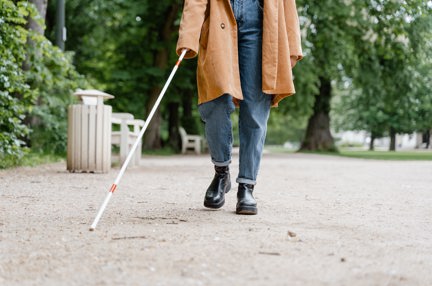 9 Oct 2023
An overview of the process of getting registered and the ways in which it can benefit you.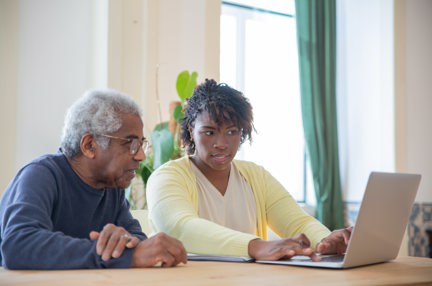 Are you a veteran with a vision impairment?
We can help you regain your independence.
Apply for support now