When you join the charity our team of specialists will be on hand to guide you through your journey with sight loss.
Our staff members cover a variety of roles and specialisms but they are all united on the same mission - to rebuild lives after sight loss.
On this page we would like to introduce a few team members from across the organisation. Watch the videos to find out more.
Rehabilitation Officer for People with Vision Impairment
Ashley works with blind veterans to help them achieve their goals. From cooking and cleaning to getting around and pursuing a hobby, our Rehabilitation Officers offer bespoke training to blind veterans across the country.
Community Support Worker
Community Support Workers are the main point of contact between blind veterans and our charity. By maintaining regular contact through phone calls and home visits, our Community Support Workers can ensure they are always on hand to offer support as and when it's needed.
Occupational Therapist
Charlie is based at our Centre of Wellbeing in Llandudno. She helps blind veterans overcome barriers by providing strategies and adaptations that enable them to do the things they want to do.
Technology Practitioner
Matt works with our blind veterans to help them access technology. From smartphones and tablets to virtual reality and voice assistants, technology plays a key role in alleviating the isolation that is often experienced by blind veterans.
Transport Service Driver
Jim is based at our Centre of Wellbeing in Llandudno. When specialist training or an event requires a blind veteran to come to one of our centres, Transport Service Drivers like Jim are on hand to pick them up from their homes and bring them to a centre.
Housekeeping Assistant
Denis is one of our Housekeeping Assistants, based at our Centre of Wellbeing in Llandudno. On top of his day-to-day duties, Denis sees his role as supporting veterans and giving them the confidence they need to achieve their goals.
Member Engagement Officer
Billy became a beneficiary of the charity when he lost his sight while serving in Bosnia. It was years later that he joined the team as Member Engagement Officer. Billy works with blind veterans in the early stages of their training to keep them motivated and on track to where they want to be.
Apply for support now
If you have a service record and a visual impairment, we could help you regain your independence.
Read more
We help blind veterans of any generation, regardless of how or when they lost their sight.
Learn about how we support loved ones and carers looking after someone with sight loss.
Explore our articles for information and tips on living with a vision impairment.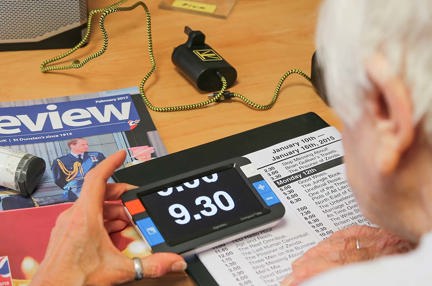 Sign up for email updates
We would love to send you updates about our work and how you can support us.
You can change your contact preferences at any time by calling us on 0300 111 2233 or emailing us. See our privacy policy for more details.