Blind veteran climbs Ben Nevis to raise money for our charity
Published on 4 Jul 2022
Our blind veteran Peter has climbed Ben Nevis at the age of 86, in order to raise funds for our charity.
Peter travelled to Fort William to take on the highest peak in the United Kingdom on 29 June. An avid cyclist and hiker his whole life, Peter has previously climbed the United Kingdom's other two highest peaks: Snowden and Scafell Pike, but the last time he climbed one of these was over five years ago.
Peter said:
"I decided to take on this challenge in 2019 when I was introduced to Chris Cheeseman, a volunteer with Blind Veterans UK. I spoke with him about taking on another physical challenge and as this is the last of the three peaks left for me to conquer, I decided I had to do it.
"Together we started training but sadly due to the Covid-19 pandemic we were unable to complete the hike in 2020 as first planned. Nor were we able to get out and walk as much, but we were determined to still go ahead."
Peter was expecting the hike to just be himself and Chris but he was joined by his granddaughter, son-in-law and a fellow blind veteran and his partner when he arrived at the foot of the mountain. Peter said:
"I was very, very surprised, I could see a group coming towards the car and I thought they were just going to wish us luck. It wasn't until they spoke that I realised who they were. It was fantastic having them there. They all motivated me and helped me along the way."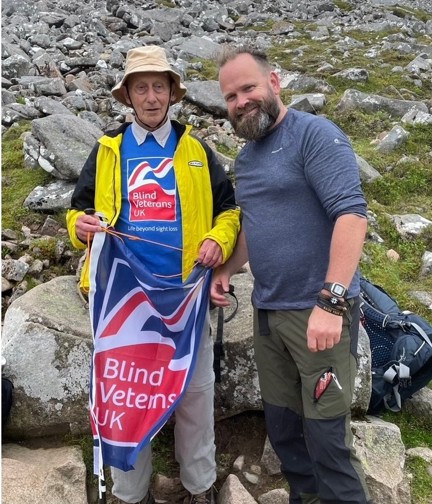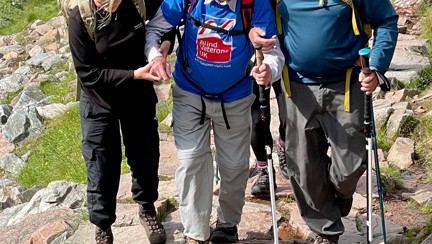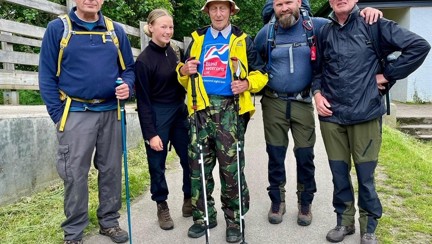 The group set off at 6am in high spirits in near perfect weather conditions. Sadly the rocky staircases, relentless gullies and the odd stray rock created an environment that was exceptionally challenging.
After five and a half hours the group had climbed over half-way up the mountain, but the next section would have meant more uneven rocks and loose stones combined with a steep incline and together the group made the decision to stop where they were.
Peter said:
"I was so pleased that we got as far as we did. At first I was disappointed that we couldn't make it to the top but it would have taken another couple of hours which then would have meant it would be getting dark on the way back down.
"It was definitely harder than I expected, I knew there would be rocks in the way but not the number that there were. It made for slow progress as my guides had to carefully tell me where to position my feet and my poles.
"However I am very pleased with what I have achieved. A lot of other people passed as we staggered up the mountain and they passed again on their way back down and they all gave me encouragement and congratulated me on how I was doing."
Peter completed his National Service in the Army's Royal Sussex Regiment between 1954 and 1956 as batman for First and Second World War General Sir Lashmer Gordon Whistler.
It was later in life at the age of 48 that Peter was diagnosed with glaucoma and macular degeneration with his sight deteriorating ever since. He can now see almost nothing.
Peter said:
"At first I was completely fed up. I'd been an upholsterer and a keen cyclist my whole life and suddenly that was all over. I didn't know what to do with myself. Luckily I found out about Blind Veterans UK through a friend and I was quickly welcomed by the charity and visited their centre in Brighton every Monday and Tuesday to get together with other blind veterans in the workshop.
"When I first visited Brighton I was overwhelmed at the support that was available. I was trained up on equipment like magnifiers which meant that I could use my limited sight to read the post, magazines and generally stay independent."
Chris Cheeseman is one of our volunteers, he said:
"Peter is 86 which brings its own challenges, add in being blind and you'd think hiking up Ben Nevis would be even more daunting, but not for Peter.
"The climb was hard going, Peter is more than fit enough to make the distance and the altitude but sadly his blindness, which is normally of little consideration when we're hiking together along the South Downs, slowed our progress on this incredibly challenging terrain.
"We reassured Peter that he had achieved an amazing feat already and that turning back was both safe and right and in no way diminished the accomplishment. It was quite the adventure, I cannot express how proud I am of this inspirational man who was determined to get on the mountain and give it his best shot.
"Peter is 86, he's blind, he's a veteran and he's my very dear friend. Peter made it to within a couple of miles of the summit despite the challenges that presented themselves at almost every step."
More news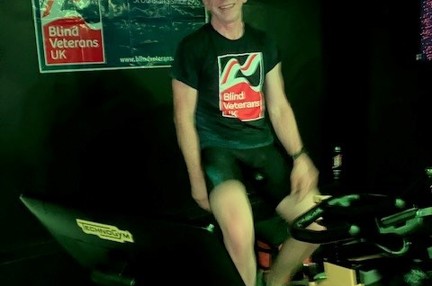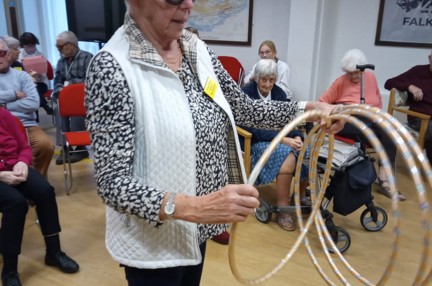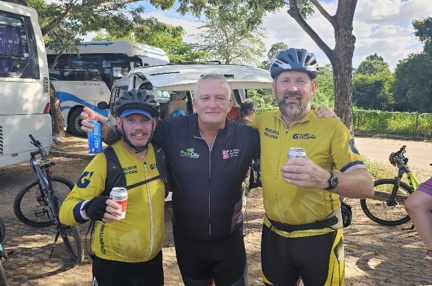 Sign up for email updates
We would love to send you updates about our work and how you can support us.
You can change your contact preferences at any time by calling us on 0300 111 2233 or emailing us. See our privacy policy for more details.