Blind veterans bond over shared love of knitting
Published on 30 Jul 2023
As we celebrate International Friendship Day, long-time 'virtual' craft pals finally meet in person to knit together and raise funds.
Two vision-impaired craft enthusiasts were delighted to finally meet for the first time recently after being 'virtual' knitting friends for three years.
Noeline Charlesworth, 71, and 92-year-old Muriel Frampton got to know one another through our online knitting hobby circle, set up to stave off loneliness during the pandemic.
The pair hit it off and kept in touch online and over the phone, but never actually met up.
So, they were over-the-moon to have the chance to finally get together at our Centre of Wellbeing at Llandudno last month where they spent a whole week together catching up and… you guessed it, knitting!
A prickle of hedgehogs
During the week, Noeline also set herself the challenge of raising funds for Blind Veterans UK. While she was busy creating flower arrangements and cards to sell on her stall, she encouraged her friend Muriel, a former RAF Leading Aircrafts Woman, to knit some rather marvellous hedgehogs to contribute.  
Being such a whizz with her needles, Muriel managed to knit a whole prickle of the little cuties. Not surprisingly, all of them were snapped up straightaway.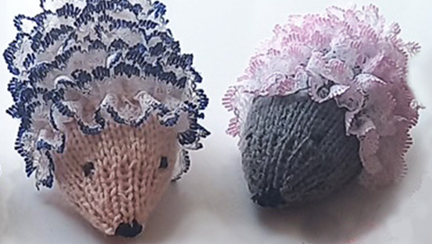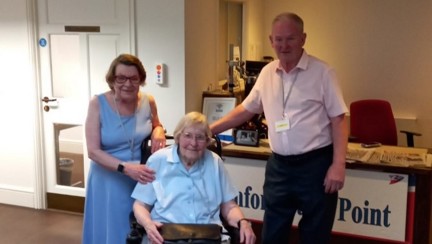 Knitting by touch and feel
Both Noeline and Muriel lost their sight due to age-related macular degeneration. Noeline, a former Private in the Women's Royal Army Corps, said, "I started losing my vision when I was 57. I remember it was autumn time and I'd be complaining about the bulbs not being bright enough. Little did I know I had the beginnings of macular degeneration.
"These days I have no central vision at all, which means I can't see people's faces anymore. I can still see colour, shapes and silhouettes though, so I go by the colours when I do my flower arrangements, whereas for knitting I do it by touch and feel, counting every row.
"The knitting group has been amazing and it was wonderful to finally meet Muriel in person. She said she'd never been hugged so hard! Making new friends has made me so much more positive about life. Her hedgehogs are an absolute delight."
Our Head of Centre at Llandudno, Kathy Boardman, said:
"Supporting friendships between blind veterans is a hugely important aspect of our work.
"Our Chairman, Lord Fraser, wrote about the specific challenges of socialising for people with sight loss all the way back in 1957, and one could say that the digital age has made meaningful connections even more difficult today.
"This is why our veterans benefit so much from the trusting, open environment of our Centres of Wellbeing and our online and face-to-face activity groups. They not only receive compassion and understanding, but they also experience the sense of camaraderie reminiscent of their time in the Armed Forces.
"This can be enormously encouraging and really aids their rehabilitation."
Like this story? Read more about friendships...