WWII veteran friends turn 100 on same day
Published on 16 Feb 2023
Two Second World War veterans who became friends through our charity celebrated their 100th birthdays on Sunday surrounded by friends and family and enjoyed a special video call moment to share their achievements.
D-Day veteran Ken lives at our Wellbeing Centre in Brighton and met Bletchley Park veteran Margaret Wilson when she visited for a holiday.
It was on this trip that they discovered the coincidence of being born on the same day and have remained friends ever since, catching up and always sitting at the same table for dinner during Margaret's subsequent visits to Brighton.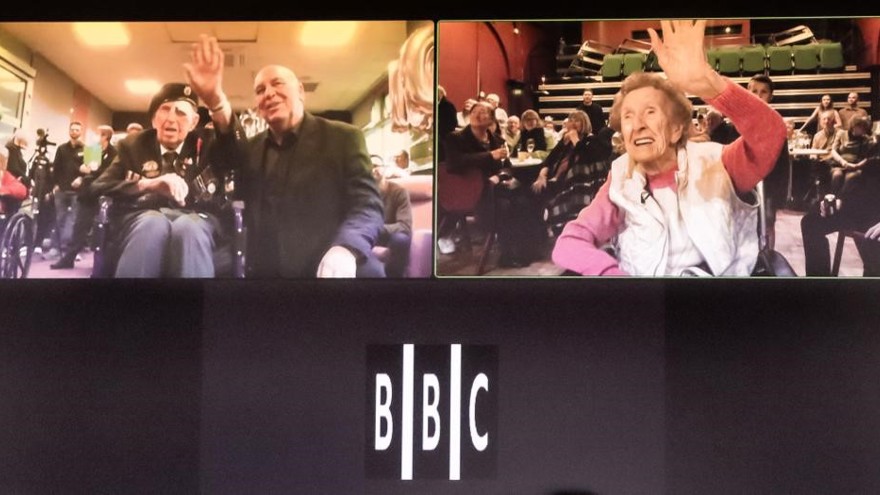 Both born on 12 February 1923, they celebrated their 100th birthdays on 12 February 2023 at parties surrounded by friends and family. Ken's party took place at our Wellbeing Centre in Brighton and Margaret's was at Inspire Youth Arts in Mansfield.
At 3:30pm the two friends enjoyed a very special moment where they were connected through a Zoom call to wish each other a happy birthday and show off their cards from King Charles.
Congratulations from the King
In this short video, blind veteran Ken holds the birthday card that he received from the King. Surrounded by his three sons, one reads it aloud to him.
Ken said: "It feels fantastic to get to the age of 100. I'm so happy to have spent these last few years with Blind Veterans UK in Brighton. I've got a huge family and it was just amazing to have all my children, grandchildren and great-grandchildren here with me today."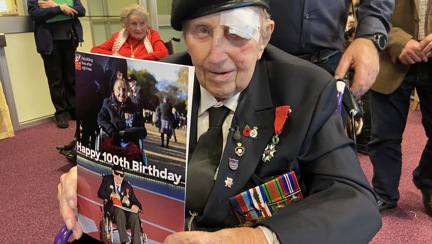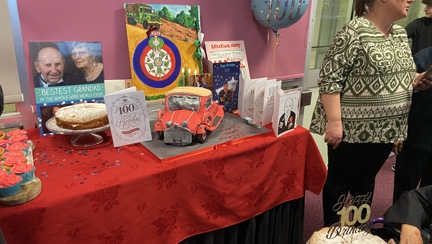 Ken was given a wonderful birthday present as he turned 100-years-old on Sunday.
While he was celebrating surrounded by friends and family, his granddaughter, 34-year-old Stephanie, was giving birth to baby Sonny. Born at 7:57pm on Sunday February 12 and weighing 10 pounds 7 ounces, Sonny was born 100 years to the day after his great grandfather.
Stephanie said: "It's just unbelievable and amazing how it's all turned out. My grandad is the rock of our family and I'm so proud of him. The fact that Sonny was born on his 100th birthday is the most amazing coincidence and something we will remember forever. It's also a lovely early birthday present for his older brother Lennon, who turns five in a couple of weeks."
Ken said: "It's absolutely marvellous. Everyone is delighted. We're one big happy family, we're all very close. They'll be bringing the baby up to see me, I'm really looking forward to it."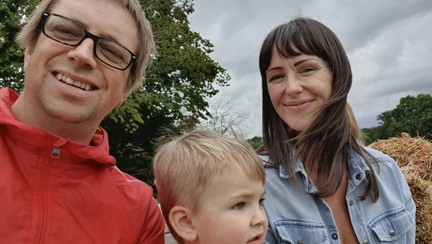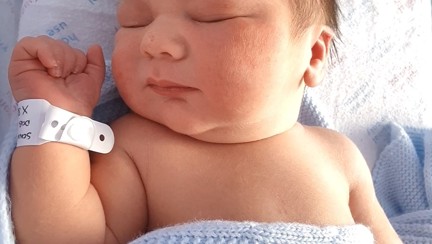 Over in Mansfield, Margaret was enjoying a celebration of her own.
She was surrounded by family, friends and fellow blind veteran Simon who recently supported Margaret in writing her biography using equipment we provided.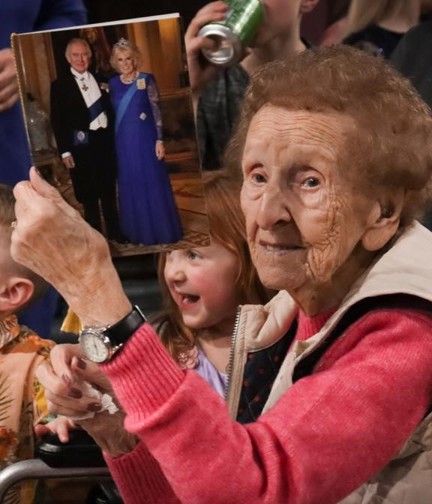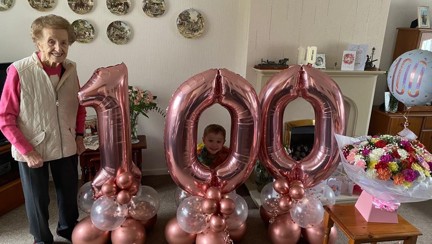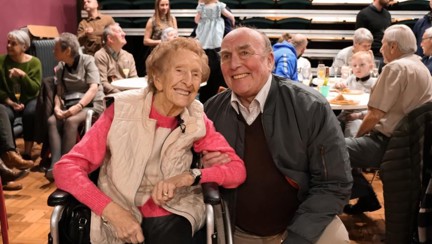 Providing lifetime support
For over 100 years, we have helped ex-Servicemen and women rebuild their lives after sight loss. Margaret and Ken are just two of many blind veterans who have received this lifetime of support.
Ken signed up to the Royal Army Service Corps in 1942.
He drove all over England fetching and delivering essential cargoes for the war effort until June 5th, 1944. The following day, he took part in the D-Day invasion and drove back and forth, close to the frontline, moving ammunition, fuel and materials as they were needed. He then drove through France, on to Holland and finally to victory in Germany.
Ken said: "Blind Veterans UK have been brilliant to me. It's awful when you lose your sight as suddenly you can't do the things that you used to be able to do. The charity has given me lots of equipment like a magnifier which means I can continue to read using the little sight that I have left."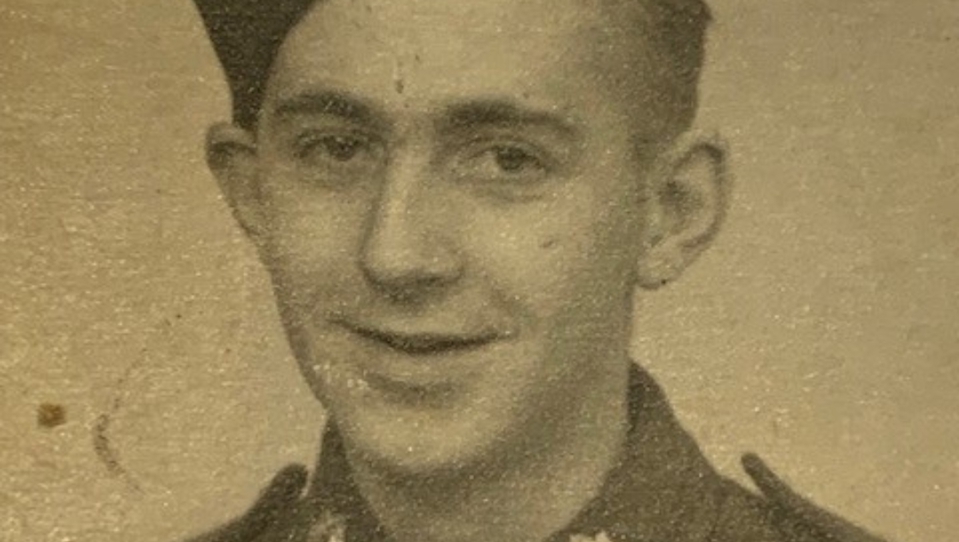 Margaret joined the Women's Auxiliary Air Force in 1942.
Margaret initially served as a wireless operator then later in the war trained in Vital Communications and went on to work as a Codebreaker at Bletchley Park. After signing the official secrets act she was sworn in by a Justice of the Peace. Margret has kept her vow and never spoken about the secrets.
She said: "The biggest impact the charity has had on me was meeting and being around all those other people, many who had much worse sight than me, who were getting on with life. Before I visited the charity's wellbeing centre I felt really low, but being there really picked me up."

Find out how we have transformed the lives of other blind veterans by reading their stories.
Read more
More news
6 Dec 2023
An RAF veteran is taking on Africa's highest mountain to raise money for our charity.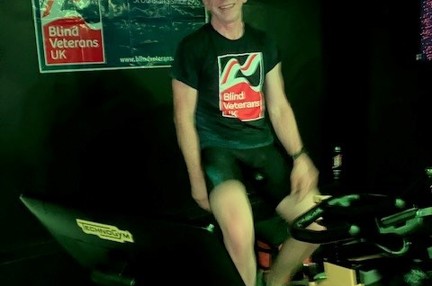 5 Dec 2023
Volunteers supporting blind veterans celebrate International Volunteering Day at Llandudno Centre of Wellbeing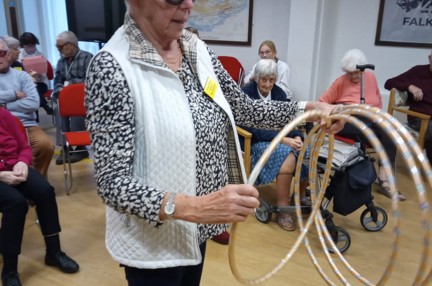 5 Dec 2023
A charity supporter has completed a cycle from Vietnam to Cambodia to raise money for our charity.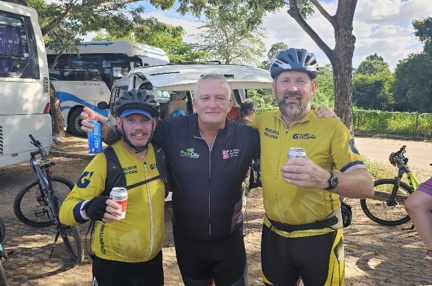 Sign up for email updates
We would love to send you updates about our work and how you can support us.
You can change your contact preferences at any time by calling us on 0300 111 2233 or emailing us. See our privacy policy for more details.