Our charity presents lifetime achievement award to blind veteran
Published on 6 Apr 2017
We recently held our Founder's Day Awards and one of the most special awards given out is the Ted Higgs Prize.
This year's recipient was Billy Baxter, a blind veteran and member of staff at Blind Veterans UK. Billy, who describes the award as a "huge honour" says:
"I know I wouldn't be where I am today without Blind Veterans UK and my wife Karen. It is a lovely opportunity to thank both of them."
A former Royal Artillery staff sergeant himself, Billy lost his sight in 1997 after contracting a virus in Bosnia. Billy, who was tasked with finding evidence of war crimes, contracted the virus while he and his colleagues were exhuming a mass grave in the war-torn country.

He says:
"I simply couldn't accept losing my sight and tried to hide it from friends and family as much as possible. I couldn't believe that anyone else would understand what I was going through."
The prize, considered to be the charity's highest honour was given to Blind Veterans UK in memory of the late Ted Higgs, a blind veteran who lost all of his sight in 1944, whilst serving with the Royal Artillery in the Second World War. It was kindly donated by members of his family and the award is given to a war-blinded veteran in recognition of lifetime achievement with Blind Veterans UK.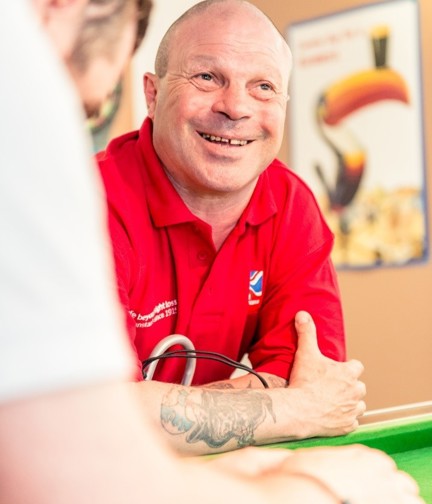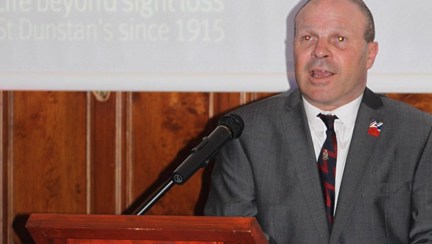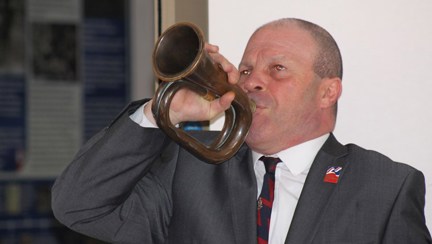 Billy continues:
"It took quite a while before I was convinced to start receiving support from Blind Veterans UK, or St Dunstan's as it was known then. I went for a week at the charity's Brighton centre to be assessed and it saved me. I'll never forget coming home afterwards and hearing my wife say 'we've got our Billy back'"

"The most important things Blind Veterans UK did for me was showing me that life doesn't stop when you lose your sight as well as that there would always be support there for me and my family."

Since he started receiving our support in 2000, Billy has ridden in a motorbike stunt team, appeared on Top Gear, taken a National Diploma Performing Arts course, received the Adult Learner of the Year award, carried the Olympic torch, become the only blind Town Crier in the UK, competed at the Pace Sticking World Championships, broken the world record for fastest blind motorcyclist and is the only blind motorcyclist to have completed a lap of a GP circuit.
Billy now works at our Llandudno centre as a Rehabilitation and Training Liaison Officer helping other veterans with sight loss regain their independence and take the same difficult first steps that he did 17 years ago.

He says:
"Blind Veterans UK has given so much to me which is why I want to give back to this marvellous charity. I know how difficult it is to lose your sight so can help new veterans to the charity through their journey. It's always amazing to see the difference between how they arrive and how they leave."
More news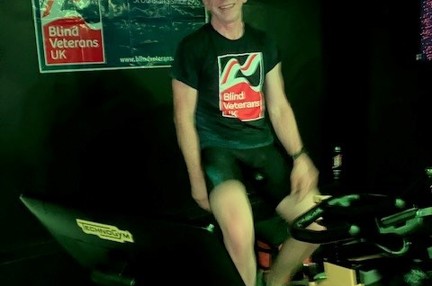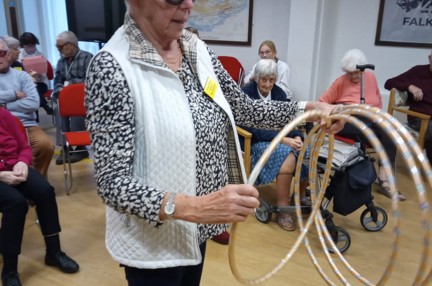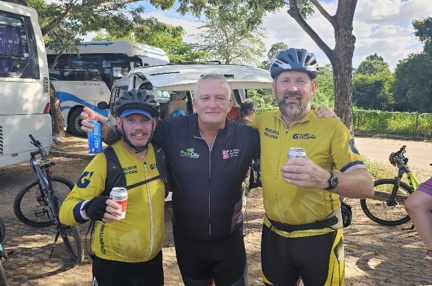 Sign up for email updates
We would love to send you updates about our work and how you can support us.
You can change your contact preferences at any time by calling us on 0300 111 2233 or emailing us. See our privacy policy for more details.