Our very own Rogue Hero
Blind veteran Mike, now 103, is the last surviving founder member of the SAS.
Published on 24 Feb 2023
The BBC One drama – SAS Rogue Heroes – features the real-life character of Mike Sadler. As well as being the last surviving founder member of the Special Air Service (SAS), Mike is also a blind veteran and has received our support since 2017.
Mike, who turned 103 this week, spoke to us to talk about his memories of service and the support he has received since losing his sight.
Born in London in 1920, Mike did not set out for a life in the Armed Forces. He says: "I moved to Rhodesia (now Zimbabwe) after school with the goal of becoming a farmer but when the war broke out in 1939 I joined the Rhodesian Army eventually becoming part of the anti-tank detachment."
He adds: "We went on to East Africa, then up through the country to North Africa, digging trenches in the sand. I went on holiday to Cairo and met up with a group of fellow Rhodesians. We had a jolly party for two or three days and I told them about the anti-tank guns and they asked me if I'd like to join them. It was only two or three weeks later that I was accepted by the Long-Range Desert Group (LRDG)."
The new TV programme, and the book by Ben Macintyre on which it is based, portrays Mike as someone who had an almost superhuman gift for navigation.
Mike Sadler on joining the LRDG and becoming a navigator
Listen to Mike describe his early days with the LRDG and how he learnt to navigate in the desert.
Mike's first experiences of behind the lines action with the LRDG and one particular operation led to him being "picked up by the SAS" as he describes it. He says: "Although I'd never heard of them before, they had just had their first disastrous parachute operation and we were sent to camp for a few days outside a place called Jalu to meet them.
"I was introduced to some of the survivors of the SAS operation and was told to take who turned out to be Paddy Mayne to a place in the west, 300 miles across the dessert. We were round the back of German lines and had an observation for some time.
"As a result of that David Stirling co-opted me into the SAS and thereafter I became an SAS chap. I had to go and complete the parachute course to join and get integrated properly. After that it was the end of the LRDG for me."
Mike Sadler on joining the SAS
Listen to Mike describe his first experiences with the SAS.
Their first successful mission saw six men destroy 24 aircraft and a fuel dump.
Mike adds: "I was a passable navigator and that was my use. It was mainly a matter of taking a lot of attention and not jumping to conclusions. I was rather patient and that suited the requirement. I greatly enjoyed it even though it involved staying up half the night to find stars that were suitable and keeping all the records and correcting them each night to start off with a new record the next morning. If we were on an operation we had to do these calculations quickly at night with the aid of radio time signals."
The television programme portrays the conditions as particularly tough but Mike says that he was very sorry to leave the desert when they did in 1943. "I really liked the desert even though it was very uncomfortable at times. I'm sure there must have been many times that I hated it, but I don't remember them.
"None of our vehicles had windscreens or tops so we were very exposed to the weather. We didn't travel in the day if we could help it but sometimes it couldn't be helped. I ended up with a couple of desert sores, but others had it far worse, Paddy Mayne had them particularly badly."

Mike accompanied David Stirling on what would turn out to be the SAS founder's last operation in the desert war in January 1943.
Mike navigated the Tunisian desert so he, Stirling, and the other men could meet the British-American 1st Army. The group was ambushed by a German unit and Stirling was captured spending the rest of WWII as a prisoner of war in Colditz.
Mike was able to escape with an SAS comrade and an Arabic-speaking Frenchman. He guided the group over five days and four nights, mostly travelling at night, for over 100 miles without maps or food to link up with the British-American 1st Army.
Mike said: "We didn't want to be spotted by anyone on the hills who might see us and we were conserving our remnants of water. We tried to avoid the heat of the daytime and travel in the middle of the night.
"We had no facilities for travelling but I knew that if we travelled westward from where we were ambushed we would make it in 100 miles. I knew the lie of the land with the desert and salt lakes and hills. I believed we would join up with the French and that was what we hoped would be our rescue. Luckily we managed to miss the Germans as by that stage we were quite a long way behind enemy lines.

After leaving the desert Mike went on further operations in Italy and France. In August 1944 he was dropped by parachute into the Loire valley with the goal of finding SAS squadrons behind the lines and continuing their work destroying fuel depots as well as preventing Panzer divisions heading north. 
It was for this that led Mike to receive the rank of Chevalier of the Légion d'honneur, France's highest honour. He also received the Military Medal and Military Cross during the war.
Mike started to lose his sight in his 80s and it gradually deteriorated over time. He started receiving support from us in 2017 and lost his sight completely in 2019 at the age of 99. He said: "I started having the injections at my local hospital but they stopped doing anything so that was that."
Mike Sadler on losing his sight and support from us
Listen to Mike describe losing his sight later in life and the support he has received from Blind Veterans UK.
Mike adds: "I was very pleased to be invited to Brighton and had a lovely time. I got a lot of training and useful information about helping me cope with losing my sight. We went on to have specialist training on equipment that I found very useful. I've also had brilliant support from my first Community Support Worker Martha and my new one Sallie-Ann. They have always been very helpful."
Mike has just celebrated his 103rd birthday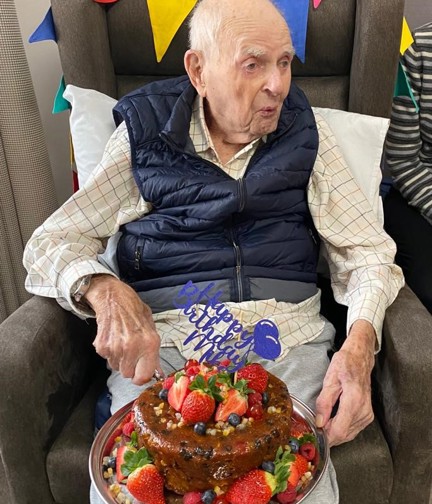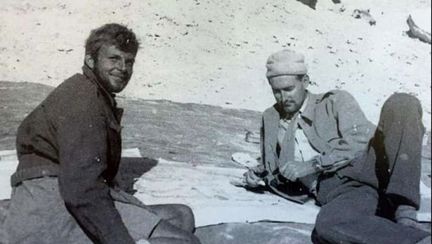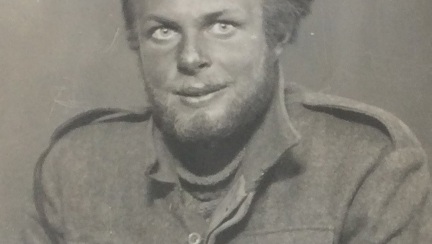 This week Mike turned 103 and celebrated with friends and family. His story is an amazing one and, thanks to the books and TV shows that tell it for a new generation, one that will live on. We are proud to support veterans like Mike.
You can still watch the first series of SAS Rogue Heroes on BBC iPlayer and it has been announced that filming for the second series will begin this year.
More news
5 Dec 2023 • South England
Volunteers supporting blind veterans celebrate International Volunteering Day at Llandudno Centre of Wellbeing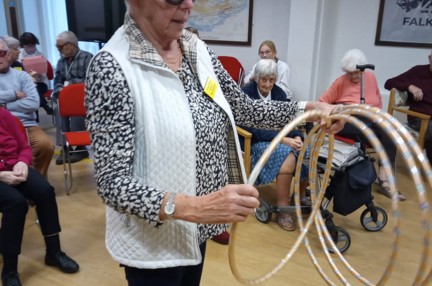 17 Oct 2023 • South England
One of our amazing volunteers was announced as a 'Volunteer of the Year' Finalist in the Welsh Charity Awards.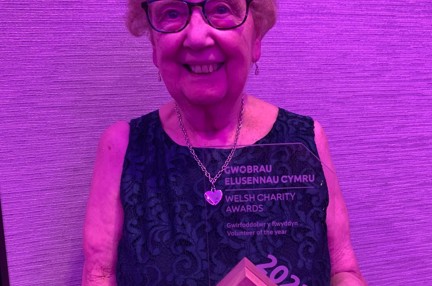 18 Jul 2022 • South England
One of our blind veterans has been given a new lease of life with the support of a volunteer from the charity.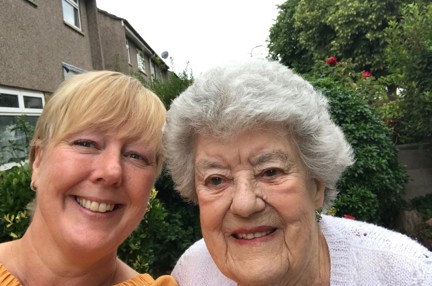 Sign up for email updates
We would love to send you updates about our work and how you can support us.
You can change your contact preferences at any time by calling us on 0300 111 2233 or emailing us. See our privacy policy for more details.