Standing down our iconic Brighton centre
Today we held a special event to formally stand down our Brighton Centre after more than 80 years of service.
Published on 3 Aug 2023
We held the standing down event in preparation for moving to our new Sussex home in Rustington next month.
The day was set to the soundtrack of music and performances from artists including the Brighton Male Voice Choir, The Not Forgotten Association, Ruth Fahie and Big Band, and Lest We Forget, but even they couldn't compete with the sound of the spectacular Spitfire Aerial Display over the building.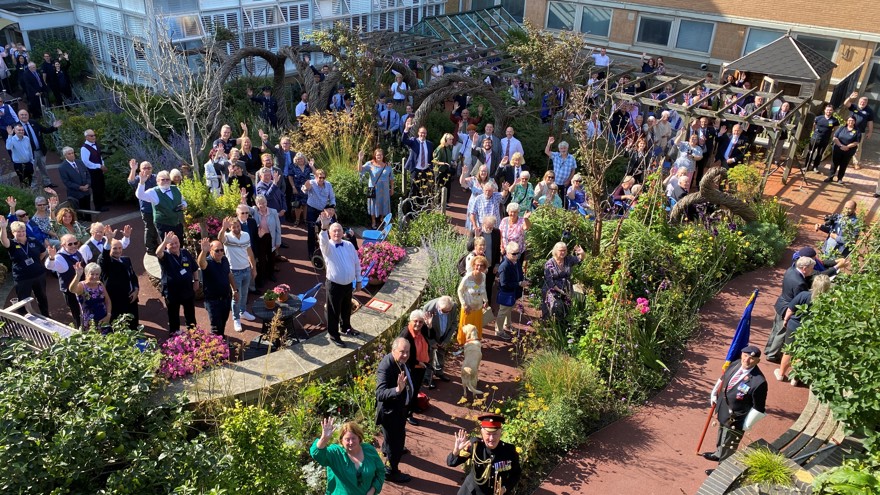 The standing down of the centre was also marked by a group of blind veterans marching a time capsule, buried in 2015 to mark 100 years of Blind Veterans UK, the 22 miles along the coast to our new centre in Rustington.
The capsule contains items and documents detailing our history of the organisation. Among them is a talking watch, the first piece of equipment offered to every Blind Veterans UK beneficiary, a memory stick containing images from the Ovingdean centre's history. It is still set to be opened in 2115, 100 years after it was originally buried.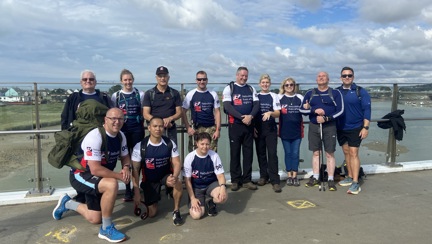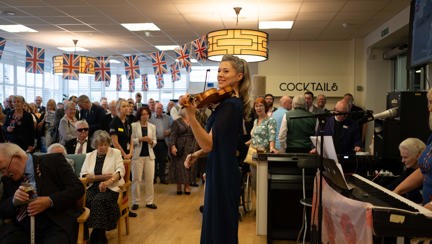 In this short video, a spitfire performs an aerial display past our Centre of Wellbeing in Brighton.
Mark, 55 and from Saltdean, was one of the blind veterans walking the time capsule to Rustington. He said: "It's a tradition in the army to march from your old barracks to your new ones so this is a great way to mark the closing of the old centre and the opening of Rustington."

Gary Hart and Poppy Gold of the Veterans Volunteer Service joined our veterans on the walk. They said: "The Veterans Volunteer Service was set up so veterans could volunteer to pass on the skills they learned in the military to disadvantaged people in their community.
"We're a West Sussex based charity and wanted to join the walk to welcome Blind Veterans UK to the local area. The charity is very close to our hearts and we're really looking forward to working together in the months and years ahead."
Blind Veterans UK opened our centre in Ovingdean in 1938 although we soon moved out at the start of the Second World War. Before then, the charity's association with Sussex dates to just after our founding in 1915 including one of our first bases in Kemptown from 1917.

In this short video, a band performs at our Centre of Wellbeing in Brighton.
We are currently recruiting for a number of new roles in our Rustington Centre in areas like housekeeping, care including Registered Nurses, security, administration, and transport. 
Careers at Rustington centre
If you are interested in finding more about these roles and what its like working at Blind Veterans UK
Lesley Garven added: "The life-changing work we do here will be continued in our new Rustington home and we look forward to becoming a real part of that community and having new people join the team to play a real part supporting blind veterans every day."
Read more
14 Nov 2023 • South England
Blind veterans joined events in both Rustington and Brighton to mark Remembrance this year.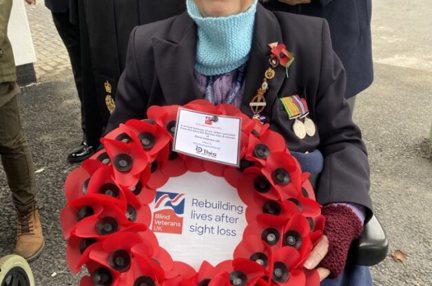 3 Nov 2023 • South England
Members of the local community are invited to mark Remembrance with us in Llandudno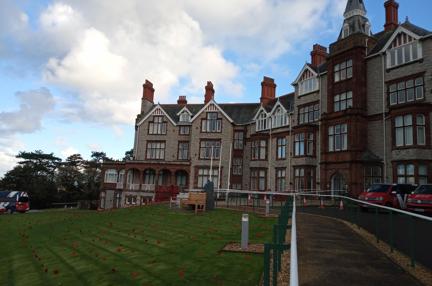 25 Oct 2023 • South England
Our awards, held in Llandudno, recognise the inspiring contributions of blind veterans