You don't have to break a sweat to support us
Published on 23 Feb 2023
Does the image of a marathon runner punching the air with delight as they cross the finish line make you think about blisters rather than medals? Does the thought of plummeting 10,000 feet during a skydive make you want to strap yourself to the nearest grounded object?
As many of our supporters have proven, you don't have to 'feel the burn' or 'face your fears' to support our charity. Using your passions, hobbies and interests can be just as effective and gives you the perfect excuse to spend more time on the things you love.
Meet our supporters who have been doing just that:
Chris and his passion for military history:
Military history has always been of interest to Chris but since retiring he's been able to dedicate more time to it. 
Four years ago Chris started volunteering at the Battle of Britain Bunker in Uxbridge where he gives regular talks to visitors about the Battle of Britain and the pivotal role played by personnel at this historic site throughout the Second World War.
Lockdown meant the museum closed its doors and Chris started to deliver his talks over the internet to various groups and societies instead. He says:
"I deliver the lectures for free, but I ask for a voluntary charitable donation to Blind Veterans UK and every group I speak to has been very generous in its support.
"It's a really worthy charity so for me it's a win all round. Firstly, I enjoy giving the lectures and telling these great stories. I feel that it's important to never let history die and to keep the memory of sacrifice and bravery alive.
"Secondly, the audience has an enjoyable and interesting evening and thirdly I can raise awareness for a fantastic charity and hopefully raise a bit of money to support blind veterans who have served their country."
To date Chris has introduced 13 groups to Blind Veterans UK and raised over £800.
Noeline selling her crafts:
Noeline is one of our blind veterans. She started receiving support from us at the start of 2020 after she lost her central vision due to an age related degenerative eye condition.
Before Noeline lost her sight she used to enjoy knitting and joined our knitting chat group during the Covid lockdown. She says:
"A lady in the group, who has no sight at all, told me how she still knits, and I was encouraged to give it a go. I was given the pattern for knitting poppies but eventually couldn't knit anymore as I ran out of red wool and Caerphilly had gone back into lockdown meaning we could only get essentials. Within 48 hours of mentioning it on the knitting group I had been sent more wool from Blind Veterans UK and I burst into tears.

"I had never met these people and they were sending me gifts and the gifts were so wonderful. I've also been provided with a magnifier on a clamp so I'm able to carry on with my card making hobby.

"When you are visually impaired and trying desperately to keep hold of your hobbies these small things are such a lovely help.

"The team at Blind Veterans UK bend over backwards and go through hula hoops to help us and I wanted to give back.

"I started selling my craft work. It's not just me, there are a team of us making scarfs, hats, pens, flower arrangements and cards. At Christmas we made snowmen from socks and rice which were selling quicker than we could make them. We sell them at a craft stall, or to veterans and staff at the charities centre of Wellbeing in Llandudno, and have so far made just over £400."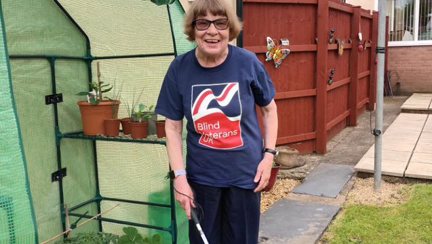 Mark and his love of fishing:
Mark served in the British Army until 2018 and now uses his love of fishing to fundraise on behalf of our charity with a yearly charity fishing match.
Mark says:
"The 48-hour competition is about much more than winning the trophy, fishing gets people outside and is a great way to improve mental wellbeing.
"I myself and the guys who organise this with me are all ex-military and we know as serving soldiers you are putting yourself in harms way and risk losing your sight or a limb. Therefore it means so much to us to be able to give something back and just a small amount of money can make such a difference."
Mark's events have raised over £7,000 for us.
Sally's enthusiasm for scooters:
Sally works for our charity coordinating the work of volunteers in the south-west and Gloucester.
Outside of work, Sally is a member of the Yate and Sodbury scooter club which brings scooter enthusiasts together to celebrate the likes of vespas and Lambrettas as well as Northern soul music.
The club holds regular charity northern soul nights and in June 2022 had their first annual scooter rally. Members of the club can nominate charities to benefit from these events and Sally put us forward. Sally says:
"I sadly no longer have my own scooter but am still very much involved in the club. The scooter rally was a great success and a really enjoyable event and the icing on the cake was that other members of the club also felt that Blind Veterans UK was a worthy charity and voted to support it to make a difference to our members. 
"The rally raised over £3,000 and three charities, including ours, were each given £1,000."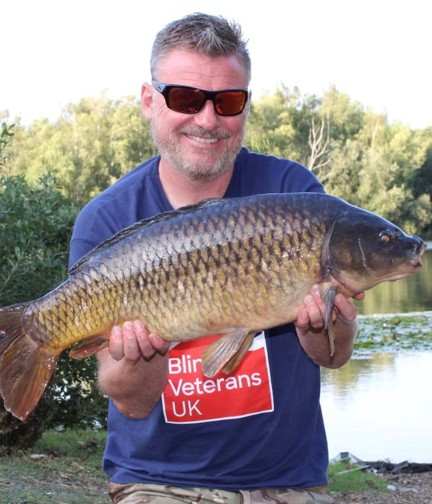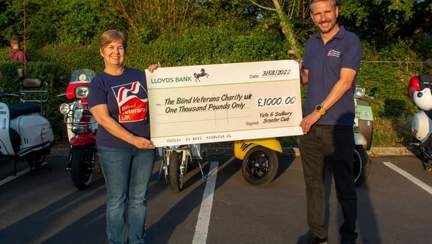 More news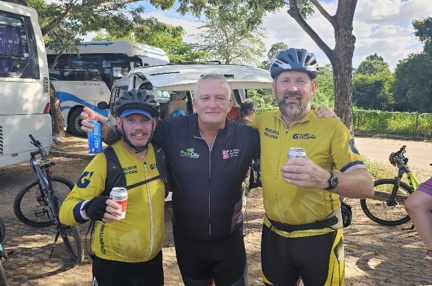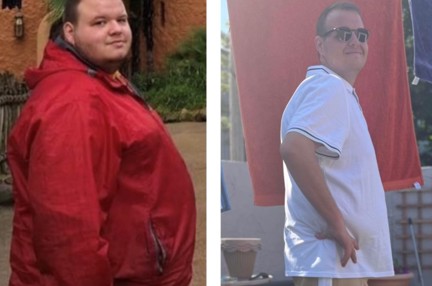 Sign up for email updates
We would love to send you updates about our work and how you can support us.
You can change your contact preferences at any time by calling us on 0300 111 2233 or emailing us. See our privacy policy for more details.