Adventure week: a blind veteran's diary
Published on 23 Jan 2023
Blind veteran Jules recently enjoyed an action-packed adventure week at our Centre of Wellbeing in Llandudno. He had such a fantastic experience that he wanted to share it with our supporters.
Jules, who is 65 and from Wallington, Surrey, spent his week overcoming fears, embracing adventure and trying new activities. Read his daily diary entries to find out more about his experience.
The complete week proved to be so stimulating, challenging and invigorating for me, it surpassed all hopes and expectations.
The activities hit the perfect balance of challenging the body, mind and spirit whilst always being fun. When I rang friends to tell them what I had been doing, they were amazed that a group of vision-impaired people could be guided through such activities!
From the moment I was picked up by a Blind Veterans UK minibus, the extraordinary kindness and helpfulness of staff was obvious. Without exception, everyone was so friendly and seemed keen to find a way to help make my stay even better.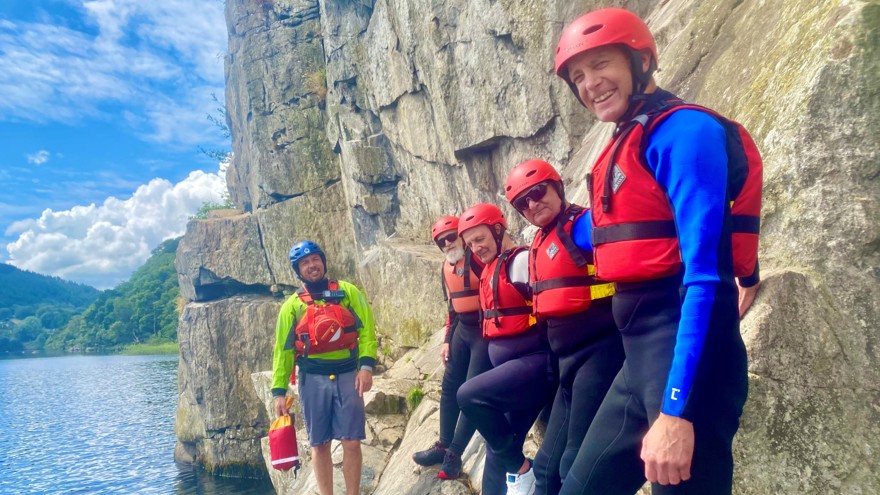 Sunday
All packed up and raring to go. Blind Veterans UK don't disappoint and turn up on time to pick me up. The driver was - as all Blind Veterans UK staff are - unbelievably friendly and helpful. 
Another blind veteran was already on the minibus so I had a very pleasant drive getting to know a little of his story. Our drive seemed so much quicker thanks to the friendly chat between the three of us. On arrival, our reception made me feel like I was an old friend who simply hadn't dropped by recently!
At the evening meal, those of us taking part in the activity week were all seated at the same table, so we had our first chance to start to get to know each other.
Monday: tandem cycling
We started the week with a welcome and introduction, outlining the plan for the week ahead of us. Hearing the details spoken reaffirmed my apprehension and excitement about what was to come. 
As a gentle introduction to our week, we were off on a tandem cycle ride along the coast to Penmaenmawr. The process of tandem cycling at a first glance looks daunting but in reality, for the back seat rider it couldn't be easier. A good pilot will give you clear and simple instructions and you just have to put the effort in to pedal when required!
As North Wales does, it was a cloudy, windy and sometimes wet morning and we left the centre to largely freewheel down to the prom. We cycled along there to familiarise everyone with what they were meant to be doing and checked the equipment before we regrouped ready to set off on the roads.
I expect that not for the first time this week, rather than dwell on what I can't see, I gained so much from exercising my other senses, particularly along the quieter stretches. Enjoying the sounds, smells and the feel of the fresh air in ways I would not have done before losing my sight.
We enjoyed our lunches outside a largely deserted café on the seafront before an equally enjoyable return ride back to the centre. Thanks to the team, I had a wonderful cycle ride and a great start to the week.
A good day was further enhanced when I noticed there was a meditation session on the timetable for the centre, so I went along to that. Since I was the only one attending, we had a wonderfully helpful chat about how I practiced my own meditation and he gave me some great guidance on breathing techniques.
Tuesday: mixed craft (water!)
The original plan had been for us to tackle paddle boarding, kayaking and canoeing at one of the lakes but this needed to be changed and so we headed for the sea. This was my first chance to address a long-standing phobia I had of the sea and doing this in controlled circumstances made it more bearable for me.
The group I was in went out with paddle boards but there were a lot of surf breaks which meant that the "paddle" element was impractical so we just went "boarding"! Once I was in the sea, concentrating on actually trying to get my board far enough out to be able to ride in on the surf concentrated my mind enough to suppress my fears.
Although the weather was very pleasant, the constant breeze kept the water quite rough and therefore we didn't get a great opportunity to demonstrate our undoubted latent paddle boarding skills! For me, that didn't matter. I had faced my fears and even tried to stand and have a quiet moment of contemplation before another wave flattened me!
Wednesday: caverns and zip-wiring
Wow! What an incredible day! Today we went to Blaenau Ffestiniog where for some insane reason someone once thought it was a good idea to put zip wires inside the huge caverns of the old slate mines. What an inspired idea!
A couple of the other blind veterans in the group had been before but now I understand why it is so difficult to describe what it is like. I had never been in caves nor zip-wired before so all this was new to me. As always with Blind Veterans UK, safety is paramount and we were paired up with a member of staff. They were a wonderful guide and support, both physically and mentally.
After being fully kitted out (harness, helmet and gloves), we went to a small cavern where there were a couple of short wires. After some instructions, we were all able to do a couple of practice runs. Then we were off!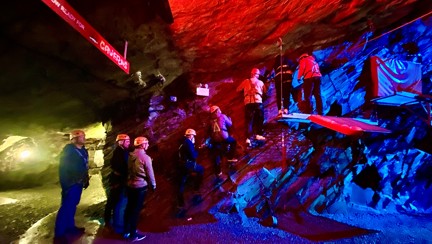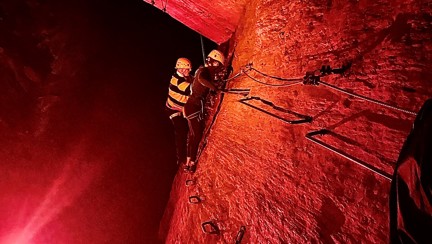 With my limited vision I can't describe how the main cavern appears; to me I imagine a space the size of a large cathedral with wires criss-crossing the length and breadth of it. Possibly, not seeing what was ahead might have been an advantage. From the very start of the circuit everyone is individually attached to a secure wire and you move along different walkways between each different zip wire.
Each zip wire was different and gave its own feeling of exhilaration in between the challenge, physical and mental, of moving to the next platform. Some of the walkways were quite challenging in different ways; clambering up steep inclines, edging along walls with only intermittent footholds and dodgy rope bridges! All this combines to give that feeling of taking a huge risk yet knowing that your safety harness gives you complete protection should you lose your footing.
I was so grateful to my guide for all her guidance and support. It must be hard enough to concentrate on your own safety without then having to worry about someone else. She did a wonderful job in guiding me safely round and I am full of admiration and gratitude to all the staff who make this work.
On reflection it was the mixture of the physical and mental challenges I faced today that made the experience so complete.
Thursday: canoeing
After yesterday's exploits in the caves, today we were in Snowdonia at one of their beautiful lakes. Today was different in that we were working together as they had tied two four-seat canoes together and we set about traversing the lake. For a while, we actually worked as a team paddling in unison but that did not last for long! The innate playfulness of being on water took over and one of the staff in a separate canoe became a target that we managed to capsize before our wonderful leader was unceremoniously thrown overboard!
After a bit of fun, we had to be serious again as we moored up at the base of a sheer rock face by the side of the lake. After getting out of our canoe we clambered up the rocks to a ledge with different levels of agility! Once there, our leader demonstrated techniques of jumping into the lake. Once demonstrated, we all followed in turn and, amazingly, all seemed quite happy to swim back to the cliff face, clamber up and do it again! As before, we each had our guide and safety boats were in the water as we jumped.
Yet another wonderful day. A lot of fun on the water mixed with the challenge of negotiating the rocks and jumping in.
Friday: coasteering
Wow! What an incredible day to end our week with. Coasteering was a new activity to me that I had not even heard of before this week. It involves walking/clambering or swimming along the coast until you spot a high up cliff ledge. Then you climb up to this ledge and jump back into the sea!
By that sarcastic description I don't want to diminish at all from the sheer pleasure and excitement I got from today's activity. All our staff are well-trained and experienced but for added safety we met up with a local guide, who clearly knew this part of the coastline of Anglesey well. Once we were all suited up with protected gear, we headed down to a small cove and after receiving instructions, headed out to sea. We then moved along the coast either in the water or traversing the rocky outcrops. Like in the caves, this presented challenges for our guides who had to direct us to secure footholds whilst ensuring their own safety.
We climbed up to one rock of no great height to practice our technique of jumping which I guessed was the precursor to something more daunting. We progressed further along the coast before we stopped again and our guide started climbing up to a much higher rock ledge. In reality it was probably 20 feet high but I don't mind admitting when I tell other people it will have been double that! Clambering up the rocks was a challenge in itself but nothing compared to the fear when it was my turn to jump.
As I edged forward, it didn't seem to matter that I couldn't clearly see as all there was below was an abyss. Others have done it so I was going to. In the fraction of a second after jumping, a huge wave of adrenaline surged and then almost disappointment that it was over as my feet crashed into the water. Once I surfaced a huge feeling of exhilaration and achievement came over me.
More news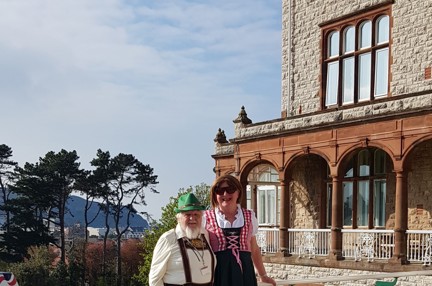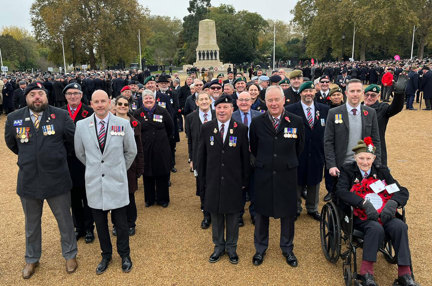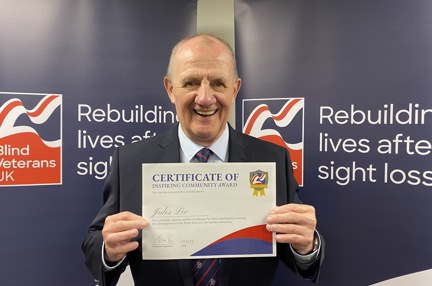 Sign up for email updates
We would love to send you updates about our work and how you can support us.
You can change your contact preferences at any time by calling us on 0300 111 2233 or emailing us. See our privacy policy for more details.