Paying our respects on Armed Forces Day
Published on 24 Jun 2023
Today we're proud to announce that we're launching a campaign for Armed Forces Day to pay respects to ex-Service men and women who lost their sight while fighting for our country.
We're taking digital billboards across London and displaying the emotive portrait photographs of nine veterans who lost their sight in conflicts including the post Second World War period, The Falklands, Northern Ireland, Iraq and Afghanistan, on Armed Forces Day, Saturday 24 June.
We worked with out-of-home specialist OOhyes and media owner London Lites to get the campaign up across huge digital screens in key locations across the capital including Waterloo, South Kensington, Surrey Quays, Wandsworth, Notting Hill and Hampstead.
Meet one of our veterans
One of the veterans featured in the campaign is Simon Brown, who lost his sight when he was shot through the face by a sniper while leading a mission to recover six stranded colleagues in Iraq.

Simon continues: "These portraits highlight both the tragedy and triumph of our veterans in Service and recovery.
"I'm proud to be a part of this campaign to show Service personnel and veterans that we'll be here for them when they need us."
An award-winning photographer
We worked with award-winning photographer Richard Cannon to capture the portraits. He says: "It was an honour to photograph these heroes who gave so much for their country. When deciding on how to approach the portraits of the blind veterans, I wanted to give them a sense of pride and presence in the final image.
"So I shot them slightly below the eyeline to give them a more powerful look. The viewer will then get a sense of respect and admiration for these brave individuals."
Facilitating positive change
Founder & CEO of OOhyes, George Rossides, says: "OOhyes was founded on the belief that every business has a role to play in facilitating positive change. So I'm delighted to have planned this campaign for Blind Veterans UK on Armed Forces Day.
"The portraits capture the strength and resilience of the veterans that Blind Veterans UK supports and they look incredible on London Lites' large format digital sites."
Blinded in combat: a photography exhibition
Read the amazing stories of the nine veterans in the campaign and find out how they lost their sight, the challenges they faced, their incredible achievements and their ongoing journey of rehabilitation.
Visit the exhibition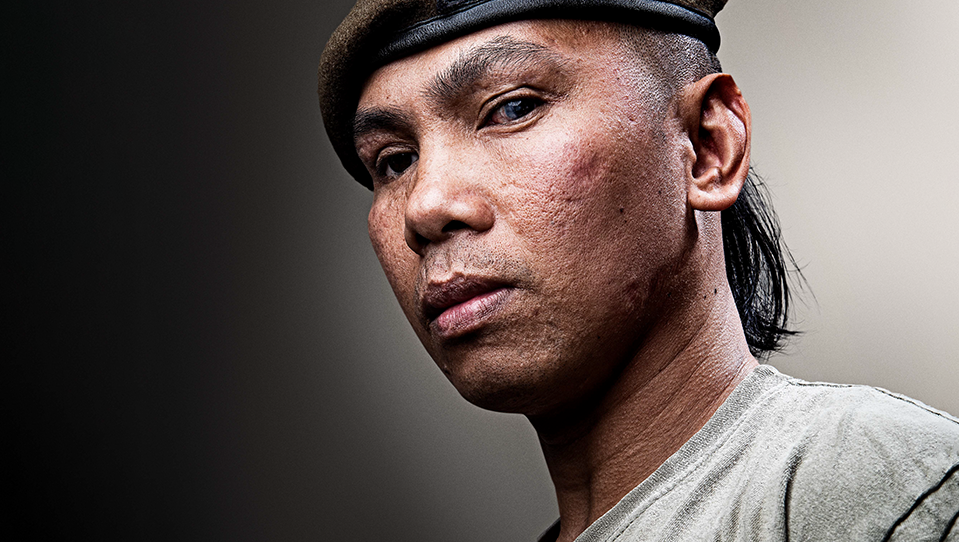 Read more
Find out how we help ex-Servicemen and women turn their lives around.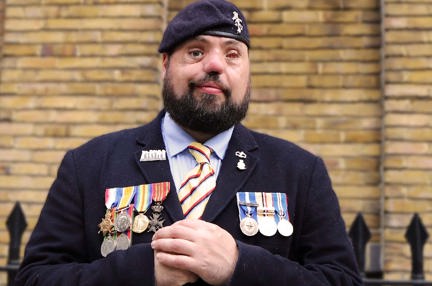 We need your help to change blind veterans' lives. Find out more about how you can donate, fundraise or volunteer.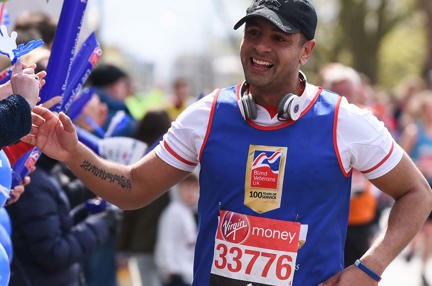 For Remembrance we teamed up with a photographer to capture the portraits of nine combat-blinded veterans.
Sign up for email updates
We would love to send you updates about our work and how you can support us.
You can change your contact preferences at any time by calling us on 0300 111 2233 or emailing us. See our privacy policy for more details.