Remembrance in Rustington and Brighton
Published on 14 Nov 2023
Our blind veterans joined the local community in Rustington to take part in the town's Remembrance parade.
We relocated our south coast Centre of Wellbeing to Rustington from Ovingdean earlier this year and we've been busy settling our permanent residents and recruiting new staff.

Two of the centre's residents, 102-year-old Nancy and 100-year old Ken joined local blind veteran Jim, 82, in laying wreaths during the town's Remembrance Service on Sunday 12 November. Nancy and Jim were supported by staff members on the day and Ken was joined by his son.

Blind veteran Alan Walker, who is also from West Sussex, carried our Standard.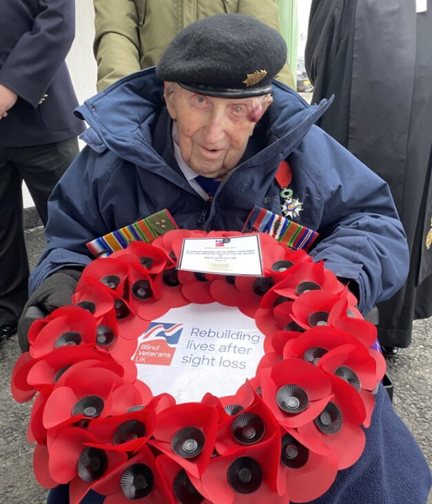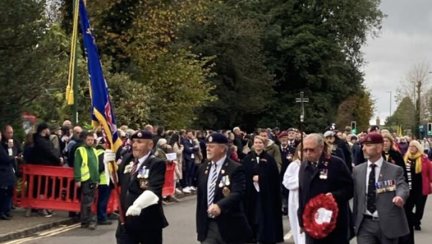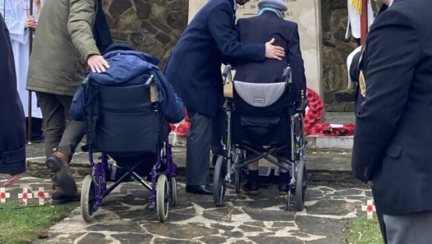 Those residents who were unable to take part in the service at Rustington War Memorial were able to partake in Remembrance at the centre during a service led by Padre George.

On Armistice Day staff laid a wreath and marked the two-minute silence at the St Dunston's Cemetery in Brighton.

Community Engagement Lead for the Rustington Centre, Jo, said:
"Taking part in the Remembrance event in Rustington was an honour, not only due to the importance of the occasion but also as our first opportunity to join the local community. We received a lovely warm welcome and our blind veterans were invited to lead the parade.

"Meanwhile, we continue to take care of the St Dunston's Cemetery and it is still very much in our minds and was important that we marked Remembrance at the site."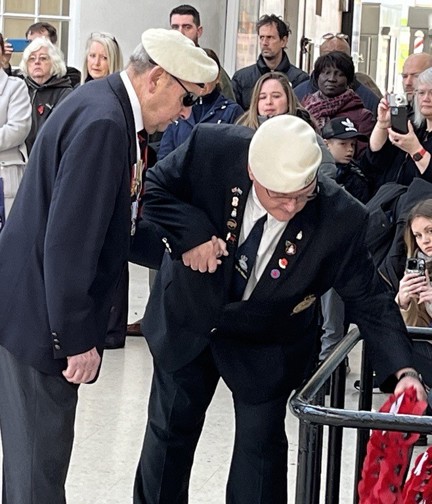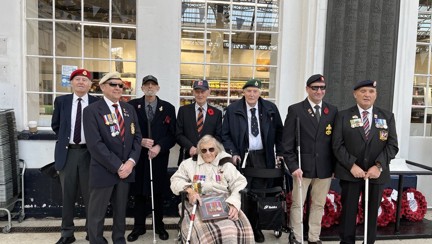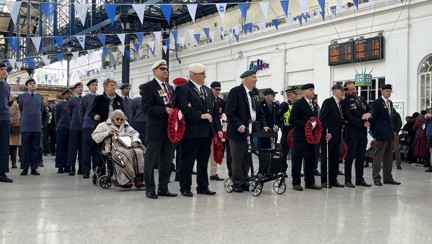 A group of blind veterans, alongside members of staff and volunteers, also marked Remembrance at Brighton Train Station. A two-minute silence, during which the trains were stopped, was held and wreaths were laid at the London, Brighton and South Coast Railway War Memorial.

Blind veteran Tony, who served with the RAF Police, said:
"Having the opportunity to lay a wreath and to be part of Remembrance Day events is a wonderful thing. I laid the wreath on behalf of Blind Veterans UK which was an honour. It's an honour every year that I stand and remember the fallen."
The wreaths laid by blind veterans in both Rustington and Brighton had been gifted as part of the charity's 'Gift a Wreath' campaign.

Thea Pharmaceuticals and interior designers HomeSmiths, who have recently assisted in the refurbishment of our Centre in Rustington, gifted the wreaths that were laid.
Would you like to join us in ensuring our veterans can take part in our 2014 'Gift a Wreath' campaign and continue to receive life changing support? Find out more, or register your interest.
Visit our Gift a Wreath page
More news
3 Nov 2023 • South England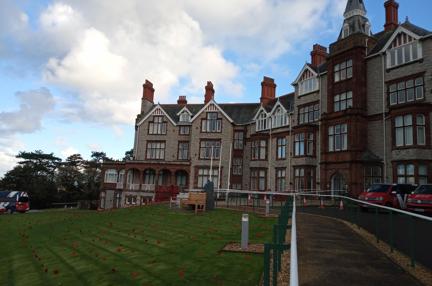 25 Oct 2023 • South England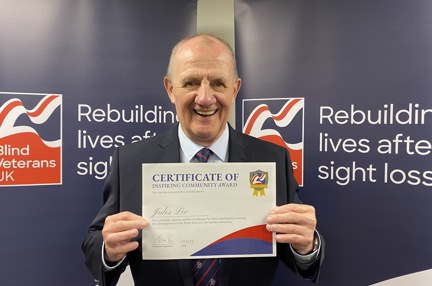 19 Oct 2023 • South England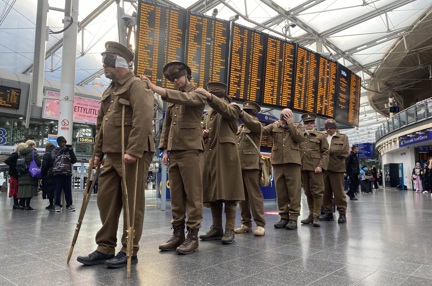 Sign up for email updates
We would love to send you updates about our work and how you can support us.
You can change your contact preferences at any time by calling us on 0300 111 2233 or emailing us. See our privacy policy for more details.