Thanking our 'Gift a Wreath' supporters
Published on 13 Nov 2023
This Remembrance we invited local groups, businesses and organisations to 'Gift a Wreath' to be laid by blind veterans at local Remembrance events.
Remembrance is a special time for veterans, their families and those in active service. It's a time to come together to remember those who made the ultimate sacrifice.
Each year we support blind veterans in making the journey to march past the Cenotaph in London, but we also recognise that many veterans choose to mark the important occasion by taking part in events close to home surrounded by loved ones and fellow veterans.
Wreaths are provided to these veterans so they too can play an active part in Remembrance.
The money raised also ensures our ongoing support to blind veterans in their communities.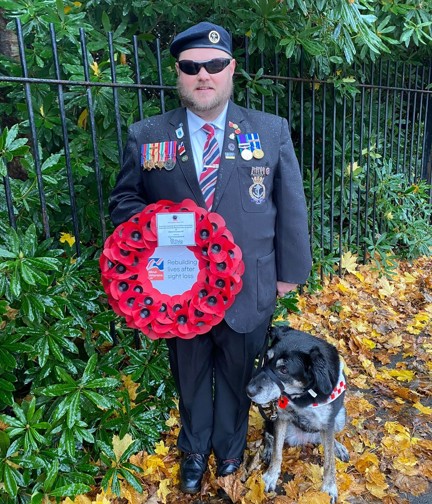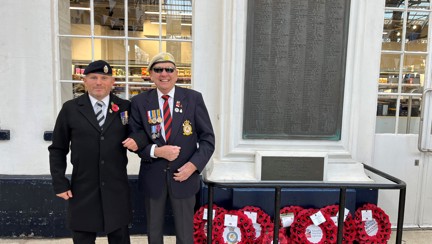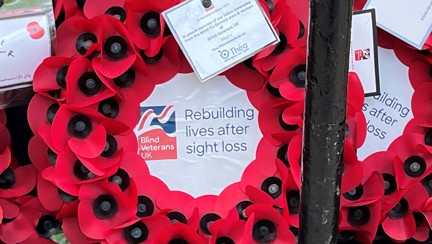 Thea Pharmaceuticals, Llandudno funeral directors Tom Owen and Sons, Anglesey hotel Chateau Rhianfa, and interior designers HomeSmiths, who have recently assisted in the refurbishment of the Blind Veterans UK Centre of Wellbeing in Rustington, gifted 12 wreaths that were laid by veterans across the country.
Employees from Thea Pharmaceuticals laid additional wreaths on behalf of our charity.
Some of the veterans who laid the gifted wreaths have told us why it's important to them:
Blind veteran Colin laid a wreath in Horwich
Colin served in the Royal Navy for 11 years. He laid a wreath at the Horwich War Memorial. He says:
"It means so much to me to have laid a wreath in my local community this Remembrance. I am honouring all the veterans around me who have sacrificed so much.
"My grandad served in the Second World War and Remembrance is a reminder to us all of past conflicts and what has been achieved by those who fought in them. I wear my grandad's medals alongside my own as a sign of respect."
Blind veteran Tony at Brighton Train Station
Tony served with the RAF Police for nine years. He says:
"Having the opportunity to lay a wreath and to be part of Remembrance Day events is a wonderful thing. I am laying the wreath on behalf of Blind Veterans UK which is an honour. It's an honour every year that I stand and remember the fallen.
"Those who fought for our freedom must never be forgotten, they gave their lives so we can be who we are today. It's about remembering so many people including my father who fought in the First World War and fellow veterans who are no longer with us but were like brothers to me."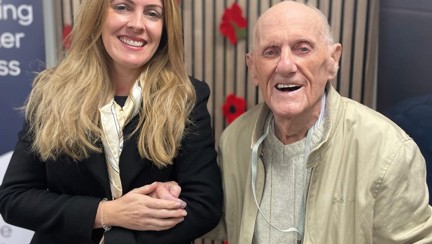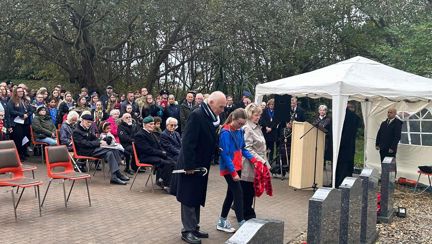 Noeline laid a wreath in Pontypridd
Blind veteran Noeline laid a wreath at the Ynysangharad War Memorial. Noeline served in the Army. She says:
"It meant the world to me to lay a wreath for Remembrance, representing all the blind veterans who have gone before me and those who are supported by the charity now. I felt truly humbled by the experience and want to say a great big thank you 'diolch yn fawr' to those who gifted wreaths and made it possible for veterans like me to do this; I hope they know how appreciated they are."
Blind veteran Les laid a wreath in Llandudno
Les, who is 96, served in the Army during the Second World War. He stayed at our Centre of Wellbeing in Llandudno for Military Week in the run up to Remembrance and was joined by Kelly from Tom Owen and Sons Funeral Directors to lay a wreath at the Llandudno War Memorial. He says:
"I was honoured to lay the wreath at the Remembrance Parade in Llandudno. It's important that we remember the people who didn't come back.
"I was especially thinking about one of the chaps from the regiment I was attached to. He was a really nice fella."
Would you like to join us in ensuring our veterans can take part in 2014 and continue receiving our life changing support? Find out more or register your interest in our Gift A Wreath Campaign 2024.
Visit our Gift a Wreath page
More news
6 Dec 2023 • North England | South England | Wales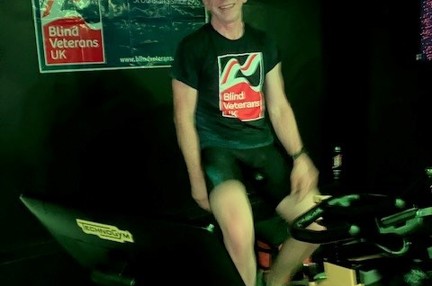 5 Dec 2023 • North England | South England | Wales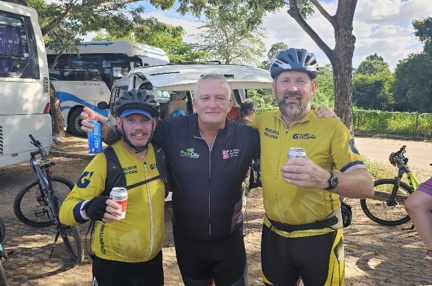 30 Nov 2023 • North England | South England | Wales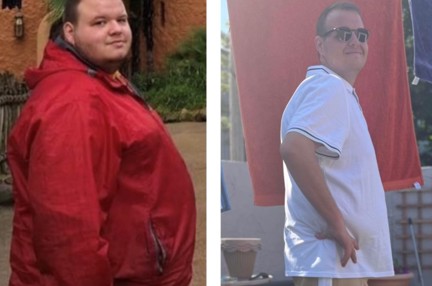 Sign up for email updates
We would love to send you updates about our work and how you can support us.
You can change your contact preferences at any time by calling us on 0300 111 2233 or emailing us. See our privacy policy for more details.