Accept, Adapt, Achieve appeal
Blind veteran Steve's journey to recovery has taken time, courage - and the expertise your support provides.
Error: Please select an donation amount or enter a new amount in the 'or choose a different amount' text input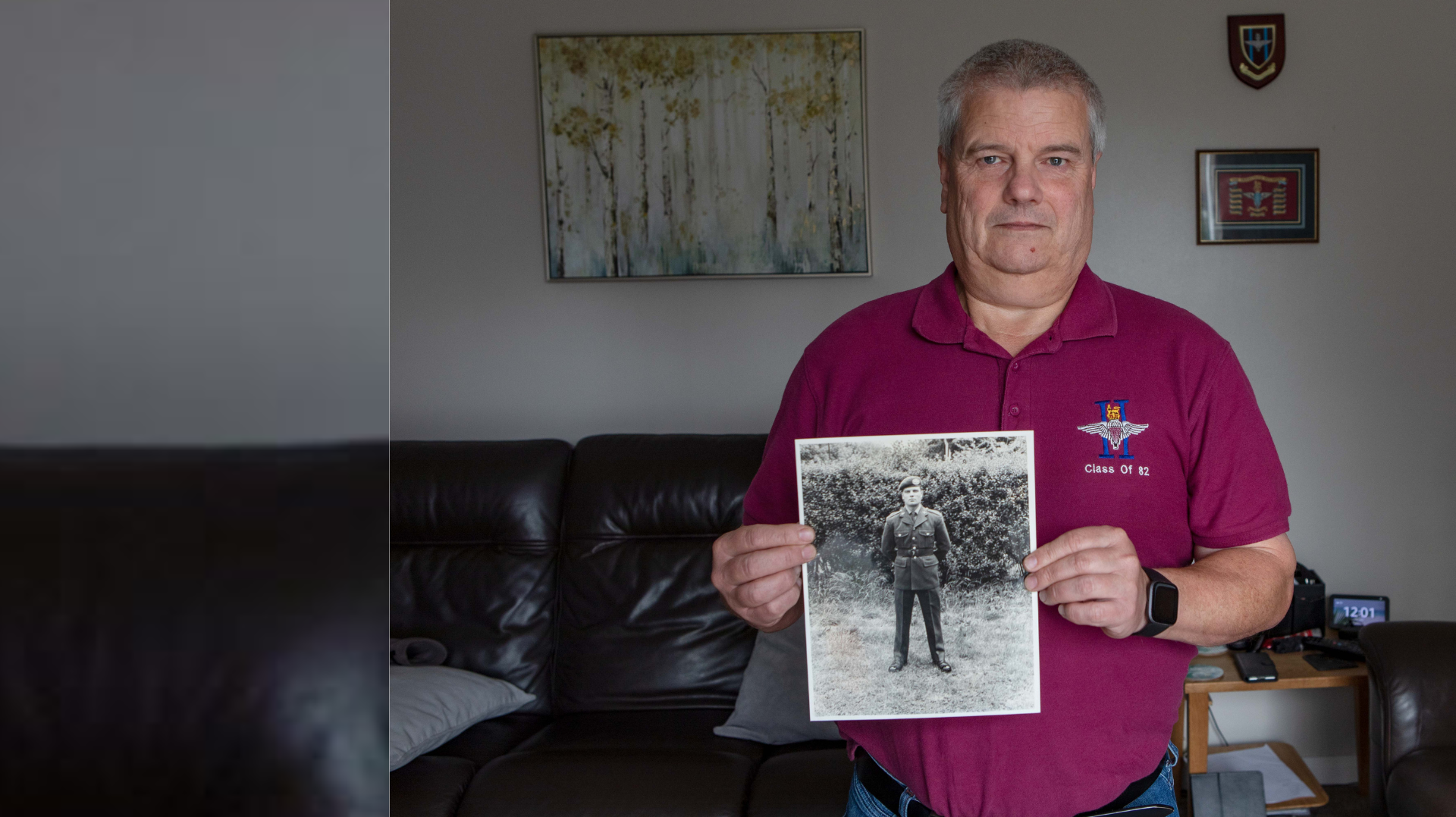 Acceptance was hard for Steve.
Falklands War veteran Steve sustained life-changing injuries when he was shot in the Battle of Goose Green, in 1982. He was just 18. Gone was his dream career with the Paras, along with his sight. He says: "My whole life changed from being a young fit man with high aspirations to just ... struggling."
Following his injury, he could only get what he called "dead end" jobs that he found hard to keep. Years of frustration followed until Blind Veterans UK helped Steve to accept his life was different now – but it could still be meaningful.
This was the first of three vital stages in Steve's recovery.
Only once Steve accepted his blindness was he willing to try to find ways to live with it. Then, our charity could show him the best ways to adapt, and he could go on to achieve whatever he wanted. It's a method that we've used since we began helping blinded soldiers in 1915 and it transforms their lives.
Please will you make this happen for more blind veterans?
Please donate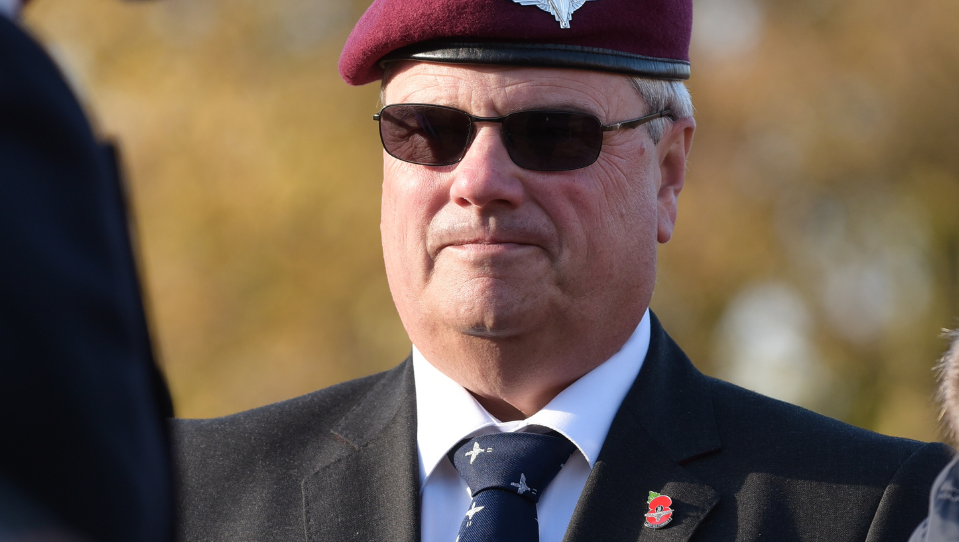 Steve had to adapt.
He couldn't earn the money he wanted, but he could take over the running of the household. Equipment, and the training to use it, was key. Steve now uses the voice control functions on Amazon's "Alexa" devices. He can access recipes, shopping lists and instructions – and now does all the cooking for the home. He also uses long protective gloves so he doesn't burn himself while he cooks.
When you donate today, you could provide similar tools to help another blind veteran adapt.
Here's Steve describing how voice assisted technology helps him adapt.
In this short video featuring his Community Support Worker, Henry, Steve discusses how he uses the Alexa device around his home. Voice activated technology enables him to ask for reminders, use the radio easily and gives him the confidence to push himself further than he thought he could in the kitchen.
Steve using Alexa in kitchen
Henry has been a vital part of Steve's adapting stage
Henry has a lot of experience working with vision-impaired people. He knows which piece of equipment will help and is an expert trainer. But he also knows the importance of listening, something that helped Steve enormously, as he tried different ways to adapt. As Henry says, "it helped him reflect on what he wanted". It was Henry who introduced Steve to the Alexa device.
Thousands of blind veterans need support from people like Henry.
Please donate today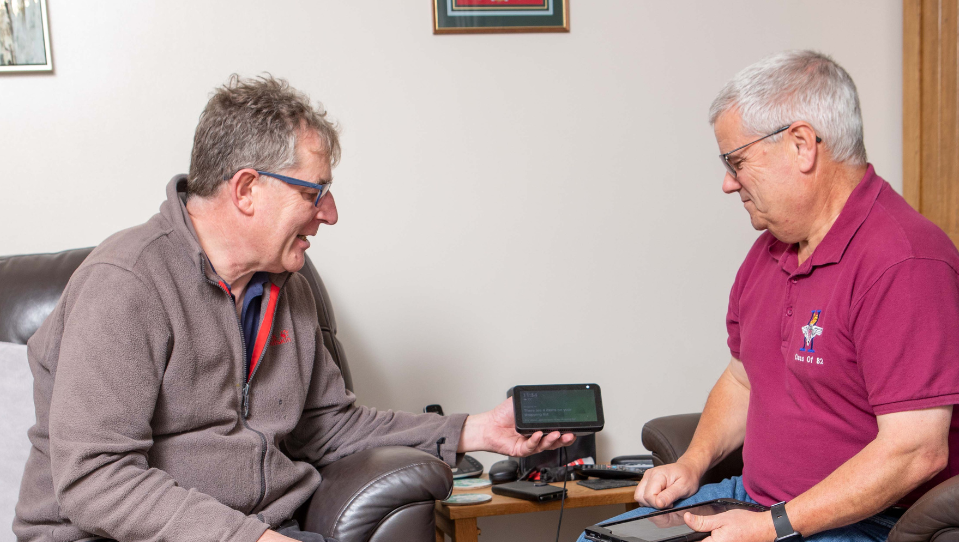 Steve now achieves more each day.
His wife loves the meals Steve cooks for her. He has a repertoire of 100 favourite recipes that he can prepare, thanks to his talking devices. "What it does allow me to do, because my wife still works, is to cook dinners for her when she comes in." Some of his favourite recipes are shared below for you to try out!
Steve also uses a cane to achieve more, day-to-day. Being able to go out independently has really boosted his confidence - before he relied on his wife to guide him. Now that he uses public transport, he feels he has his freedom back.
Steve's recommended recipes
Cajun chicken pasta
Ingredients:
1 tbsp olive oil
400g chicken breast, chopped into large chunks
3 garlic cloves, finely chopped
2 tbsp cajun seasoning
400g can chopped tomatoes (or passata)
1 chicken stock cube, crumbled
500g penne pasta (or similar)
150ml double cream
20g parmesan, grated
1/2 lemon juiced
chopped parsley to serve
Method:
Heat the olive oil in a large pan over a medium heat. Add the chicken, season lightly and fry for 6-8 minutes, stirring occasionally until golden all over. It does not need to be cooked through at this stage. Sprinkle the cajun seasoning over the chicken. Add the tomatoes, half a can of water and the stock cube. Stir and simmer for 5 minutes. Bring a large pan of salted water to boil. Add the pasta and cook for a minute less than the package says. Stir the cream into the chicken and simmer gently. When the pasta is cooked, drain and add to the chicken mixture. Cook for 2 minutes, then add the parmesan and lemon juice and cook for 1 more minute. Sprinkle on the parsley and some extra parmesan and serve.
Oven-baked Thai chicken rice
Ingredients:
1 tbsp vegetable oil
1 onion, chopped
400g mini chicken fillets
4 tbsp Thai green curry paste
250g basmati and wild rice mix
2 red peppers, deseeded and cut into wedges
1 lime, zest and juice
400g reduced-fat coconut milk
Handful of coriander leaves, chopped to serve
Method:
Heat oven to 200c. Heat the oil in an oven-proof casserole dish, and soften the onion for 5 minutes. Add the chicken and curry paste, then cook for 3 minutes, stirring to coat. Tip in the rice and peppers, stir in the lime juice and zest, the coconut milk and 250ml boiling water. Bring to the boil, cover and bake for 20 minutes or until the rice is fluffy. Scatter with coriander before serving.
Cod curry
Ingredients:
1 tbsp oil
1 onion, chopped
2 tbsp medium curry powder
Thumb size piece of ginger, peeled and grated
3 garlic cloves, crushed
2 400g can chopped tomatoes
400g can chickpeas
4 cod fillets (approx 125-150g each)
Zest of 1 lemon
Handful of coriander, chopped
Method:
Heat the oil in a large, lidded frying pan. Cook the onion on a high heat for a few minutes then stir in the curry powder, ginger and garlic. Cook for a further 1-2 minutes then add the tomatoes, chickpeas and some seasoning. Cook for 8-10 minutes until thickened slightly,
then top with the cod. Cover and cook for another 5-10 minutes until the fish is cooked through. Scatter over the lemon zest and coriander and serve with lemon wedges.
Thanks to your support, Steve hasn't had to give up his desire to succeed.
Your donations make such a difference. Please help more blind veterans to accept, adapt and achieve.
More ways to support our work
Volunteers are crucial to the work we do. Find out how you could make a huge difference to blind veterans' lives.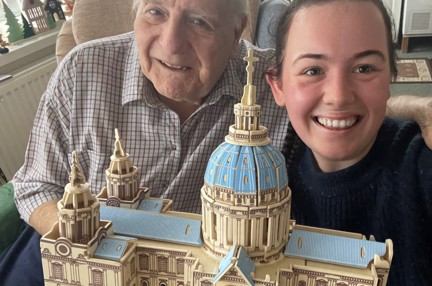 Have some fun, help blind veterans and be in with a chance to win some cash by playing our raffle and lottery.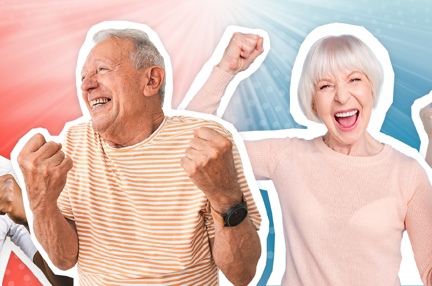 Hear how we've helped blind veterans turn their lives around, in their own words.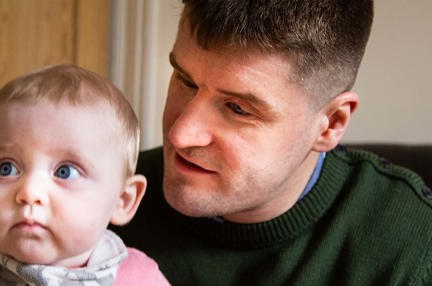 Sign up for email updates
We would love to send you updates about our work and how you can support us.
You can change your contact preferences at any time by calling us on 0300 111 2233 or emailing us. See our privacy policy for more details.