Veteran competes in top golf competition
Published on 17 Mar 2023
Sight loss can create barriers that prevent our veterans from carrying out simple everyday tasks and can also strip away their confidence, identity and purpose. Being able to discovering or re-engage in interests such as golf can be life changing.
Blind veteran Danny was supported by us to travel to South Africa earlier this year to represent England and Wales at the World Blind Golf Championships.
Danny, who is 85 and from Norfolk, competed against many other golfers from around the world in both the South African and world championships. 
Having qualified for the six-day competition before Covid, Danny had to wait for three years before he was finally able to tee off. He came 24th out of 38 competitors which he says was a dream come true, especially as he was by far the oldest player.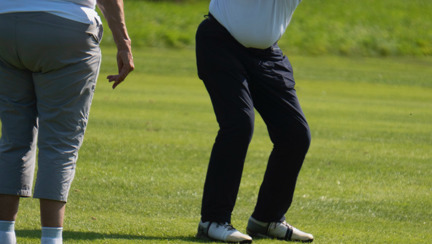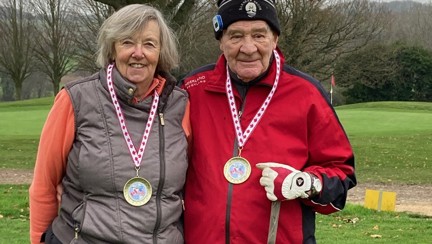 Danny says:
"I love sport and I've always been determined, as a ten-year-old I wanted to play football for England. I've had a lot of success in golf over the past four years. Last year I won the order of merit for the over 65s and came second in the overall order of merit for England and Wales Blind Golf."
Danny's military career
Called up for National Service in 1955, Danny signed up for a full career with the Royal Air Force and served for 22 years. His career took him around the world from the beautiful weather of Hong Kong and Gibraltar to the freezing extremes of the Arctic Circle.
Danny says:
"One of my most memorable moments with the RAF was being sent to Goose Bay in the very north of Canada which was inside the Arctic Circle. I was working as an aircraft servicing chief at the time and went to coordinate the servicing of the Hercules fleet. The blizzards were intense and if you didn't obey the rules, you could have been lost permanently.
"They never seemed to send me to hot countries to service aircraft! But on exercises I did get to visit Cyprus many times and Gibraltar. Every night in Gibraltar we'd walk across the border which had been closed to vehicles and drink sherry."
Danny was 40-years-old when he left the RAF and joined civilian life at an engineering company in Thetford where he worked for 24 years until his retirement.
Sight loss
It was in 2009 that Danny first noticed his eyesight was failing and it was discovered Danny had macular degeneration, an age-related degenerative eye disease. He says:
"My sight went downhill quickly and by 2011 macular had done its worst and I was registered as blind. "I'm now completely blind in my left eye and I have around 5% vision remaining in the right eye. "I was devastated when I found out and depressed for a long while. I'd lost my independence and felt that my life was going to be miserable due to having to be totally reliant on others even to make a sandwich. I did start to think that I couldn't go on like that."
Discovering our charity
Danny had a visit from social services and was given information on organisations that could help including our charity.
He says: "It was arranged for me to visit the Blind Veterans UK Centre of Wellbeing in Brighton and it was while I was there that the penny dropped; I realised my life was not over and I could still do things.
Love of golf reignited
Danny now plays golf twice a week and is a member of the England and Wales Blind Golf Organisation. He says:
"Blind golfers have challenges to overcome, when I look down at the ball, I can't see the shape. It's as if I'm looking at a ball of fluffy cotton wool."
To help overcome the additional challenges, blind golfers have three rule changes; they can ground their clubs in all hazards including sand, a club can be placed on the ground to line them up so they know they are hitting the right way and a guide is allowed to stand directly behind them. Danny says:
"Other than that we play by the same rules and with the same equipment as Tiger Woods.
"All of the help and support I've had from Blind Veterans UK and from the England and Wales Blind Golf Organisation has helped me to believe in myself. The 'can do' attitude Blind Veterans UK has instilled in me, has led me to where I am now and I couldn't be more grateful.
"Hearing from other blind veterans about what they had achieved really spurred me on. It may sound silly but when I first joined Blind Veterans UK, I was given a chopping board to help me cook safely and now whenever I look at that chopping board, I say to myself 'you can do it if you want to'."
Our themed golf weeks
In addition to the rehabilitation and training available to our veterans in the community and at our centre's of wellbeing, we also offer themed weeks – including golfing weeks.
These are designed to enable veterans like Danny to reconnect with, or discover, new interests, instil confidence, a sense of purpose and reduce isolation.
Blind veteran Bill attended a golf themed week at our Llandudno Centre of Wellbeing and fulfilled a life long ambition he thought would be inaccessible after loosing his sight. He said:
"Before losing my sight I had always wanted to try golf. Golf week gave me the skills and techniques to play and the charity are arranging for a local volunteer to help me get to know my local course. The experience has helped my confidence just as much as other vital equipment and training I've been given during my time with Blind Veterans UK."
Are you are part of a golf club – or any other sports or social club - that would like to make a difference for blind veterans in your area and across the UK?
Email our Community Partnerships team
Sign up for email updates
We would love to send you updates about our work and how you can support us.
You can change your contact preferences at any time by calling us on 0300 111 2233 or emailing us. See our privacy policy for more details.