Visiting an isolated blind veteran at home
Mia is one of our Home Visitor volunteers, matched up with blind veteran Maurice. Her weekly visits provide the crucial companionship that Maurice needs while also giving Mia an incredibly rewarding experience.
Shortly after being matched together, the pair discovered a shared interest in model making, which forms the basis of many of their get togethers. And when they're not doing crafts together, Mia will read a book to Maurice, they'll have a coffee at the garden centre, or they'll take a stroll down to the seafront for a fish and chip lunch.
In just one year, Mia and Maurice have developed an unbreakable bond and meaningful relationship that's extremely fulfilling for both of them.
Read their volunteering story
Rehabilitation though arts & crafts
The models that Maurice works on can sometimes be quite hard with lots of small pieces - that's where Mia comes in to put them in place before Maurice finishes off the job. If he was on his own he wouldn't be able to read the instructions and even the models made for people with low vision can be quite tricky.
Mia says: "We love making the models together. My favourite moment was when we finished the model cathedral. It took us quite some time but when we did it I could see how happy he was, it was so nice to see.
"He doesn't have many people that go and see him so I think it can be quite lonely at times. Sometimes when I arrive I can see he's in a low mood but after some time together he gets so smiley and happy. Seeing him happy makes me happy. It's very rewarding. I absolutely love going to see him."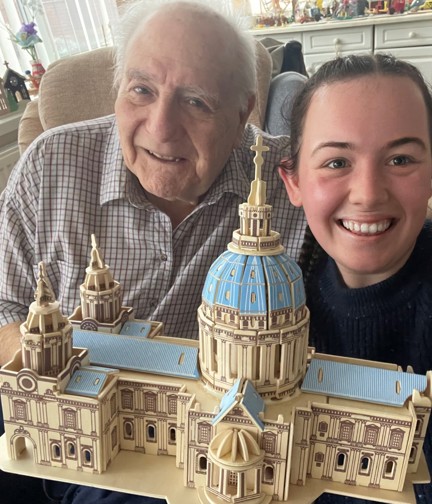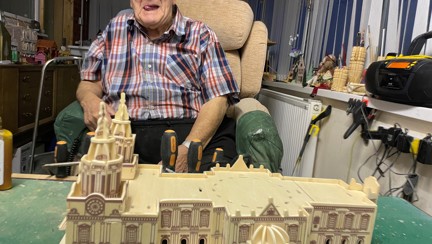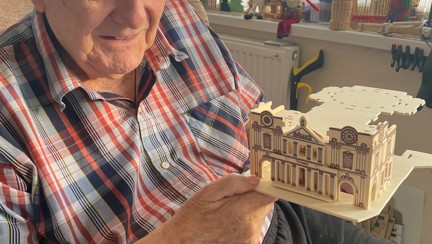 Maurice and Mia with their model cathedral
Giving blind veterans their independence back
Blind veteran Maurice, who is 93-years-old, completed two years National Service with the Royal Army Ordnance Corps. It was much later in life at the age of 67 that macular degeneration took his sight which has been in steady decline ever since. Luckily in 2012 he found out about our charity and has been receiving our support since then.
Maurice says: "We do lots of model making together. Sometimes we get out of the house and go down to the sea front and have a walk around, it's lovely to soak up the fresh sea air. And other times Mia will read a book to me, it's really relaxing.
"Blind Veterans UK has been fantastic, not only for bringing someone like Mia into my life, but also by helping me maintain my independence with all sorts of equipment that I can use at home. Things like a machine that I can put letters under and it reads them out to me. I couldn't do without it. I know whatever I need they will always be here for me."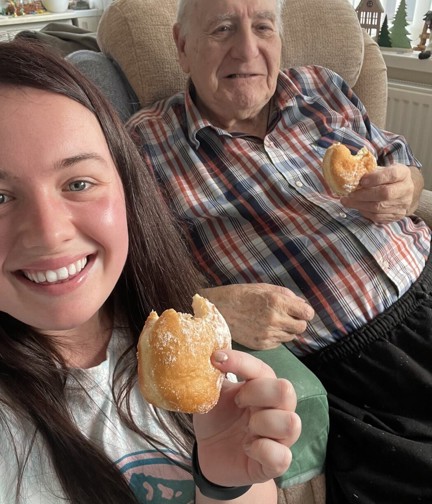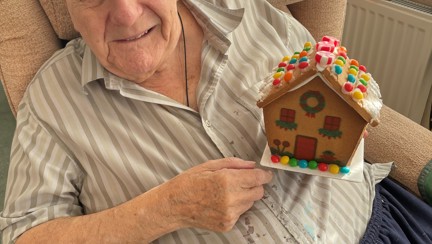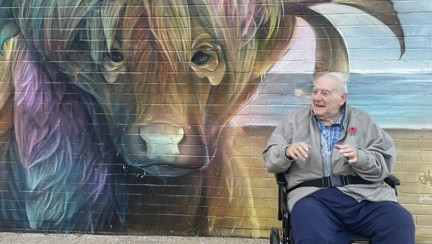 Maurice and Mia enjoy some sweet treats and an afternoon at the sea front
Mia & Maurice record a song together
In this short video, Mia and Maurice sing 'Imagine' by John Lennon. They were inspired to make the song after Maurice told Mia that he loved the meaning behind the lyrics. The video shows a montage of images from Mia and Maurice's relationship.
Get involved
Before Mia got started with volunteering we made sure she had all the training she needed to be able to support Maurice safely and confidently. Sighted guiding training ensures our volunteers can guide our blind veterans in any environment and wheelchair training showed Mia how to help Maurice in and out of his chair. There is always ongoing support available and regular check ins with a local Volunteer Coordinator.
Mia says: "If anyone was thinking about volunteering I would say go for it. Even just an hour or two a week could make a whole world of difference to the person you're supporting."
Apply to become a volunteer
Become a volunteer and change a blind veteran's life.
More volunteer stories
Aileen helps our beneficiaries take part in sports, arts and activities at our Centre of Wellbeing in Brighton.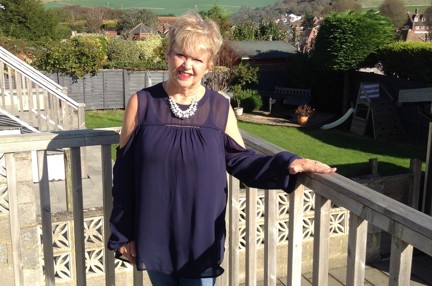 Blind veteran Kenneth was so grateful for our support that he became a volunteer to give something back.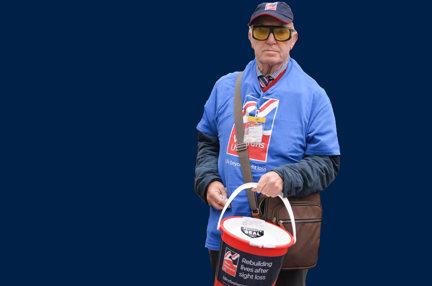 Jacque helps isolated veterans get the interaction they need by driving them to social events.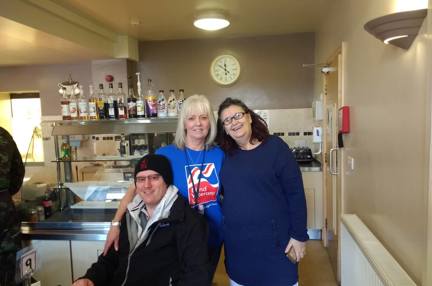 Sign up for email updates
We would love to send you updates about our work and how you can support us.
You can change your contact preferences at any time by calling us on 0300 111 2233 or emailing us. See our privacy policy for more details.