Simon joined the Army aged 18, following his father into the Forces.
In 2006, on his second tour in Iraq, Simon was almost totally blinded when he was shot by a sniper. 
Overnight, Simon went from being a young man at the height of his military career to someone unsure of what he would do, or could do, with the rest of his life. He says: "My world fell out. I had lost my career, my job, my future."
And that's where we came in. Simon says: "Blind Veterans UK helped me through the very worst times and for that I am very grateful."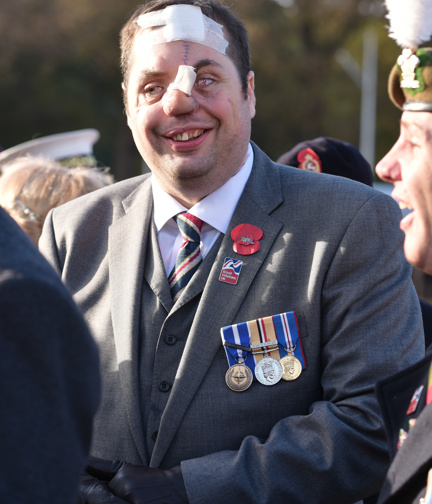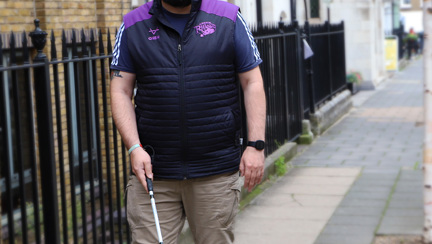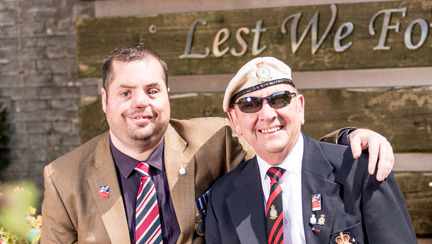 Shot in the line of duty
Simon was a corporal in the Royal Electrical and Mechanical Engineers when he was shot in the face during a rescue mission in Basra in 2006.
The bullet entered his left cheek and exited through his right cheek. Both his cheekbones were shattered, his jaw was broken and the roof of his mouth collapsed. His left eye was destroyed and he was left with only 20 per cent vision in his right.
Simon received emergency treatment in Iraq and was then transferred back to the UK, where he spent a year in hospital.

Joining Blind Veterans UK 
As Simon began to adjust to his life-changing injuries, he started thinking about his future. He was still a young man, and serving his country was all he had known his whole adult life. But his military career was over.
Simon was supported through his recovery by family and friends, but soon realised that he needed professional help to rebuild his life.
He says: "To be 30 years old and realise that you have done everything you are going to do in your life is quite depressing. So we had a fish around to see if anyone else could help and that's when we found Blind Veterans UK." 
In his own words
Simon speaks about his injury, losing his sight and rebuilding his life.
Learning to live with sight loss 
We provided Simon with the rehabilitation, training and practical support he needed to adjust to his sight loss and live independently.
Like many of our veterans, he also benefitted hugely from being part of our military family and sharing his experiences with other Service personnel.
He explains: "As well as all the invaluable and practical support offered by Blind Veterans UK, it was the sense of belonging and understanding from their community that's really helped me to stay positive.
"It was the introduction to other people, finding out that my story wasn't the worst out there. We are not just here for tea and sympathy, we are here to give people their lives back."
A fresh start and a new career
Simon now works for us full-time, as a Communications and Engagement Officer, helping to recruit new veterans to the charity and raise awareness of the vital work that we do. 
He says: "My life has been rebuilt. I am evidence of what can be done.
"Supporting the charity by trying to spread the word about its work is my way of saying thank you for everything they have given me".
Read more veterans' stories
Ken was isolated after he lost his sight and his wife died. But meeting our volunteer, Liam, changed his life.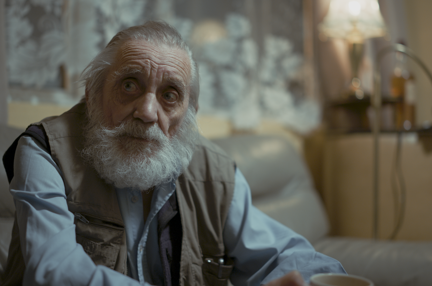 Chris was a young dad at the height of his career when he was blinded on duty. See how he turned his life around.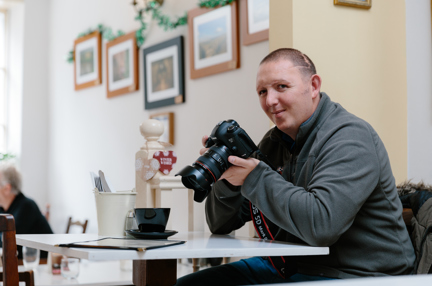 Our tribute to a much-loved D-Day veteran who lost his sight later in life and found our support life-changing.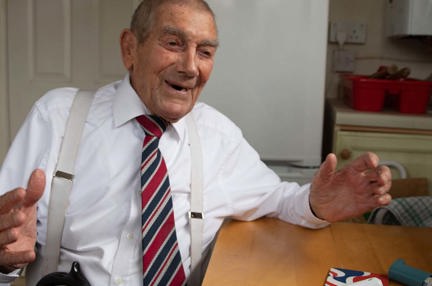 Sign up for email updates
We would love to send you updates about our work and how you can support us.
You can change your contact preferences at any time by calling us on 0300 111 2233 or emailing us. See our privacy policy for more details.