Remembrance 2023: Served, Blinded, Supported
Published on 17 Oct 2023
As a charity supporting thousands of ex-Servicemen and women, the National Service of Remembrance is one of the most important events in our annual calendar.
We commemorate the brave sacrifice of all those who lost their lives for their country. We also reflect on the huge challenges faced by veterans living with life-changing injuries from their time in service.
Our Remembrance campaign this year, Served, Blinded, Supported, encapsulates the journey of our war-blinded veterans who have come to us feeling physically and emotionally broken.
We provide rehabilitation and training to help them back on their feet until they are living full lives again. For as long as it takes.
At the same time, we highlight the experience of those veterans who have lost their sight off the battlefield, often due to age-related conditions, rendering them vulnerable and dependent; lonely and isolated.
Help us give blind veterans the support they need to live independently.
Give this Remembrance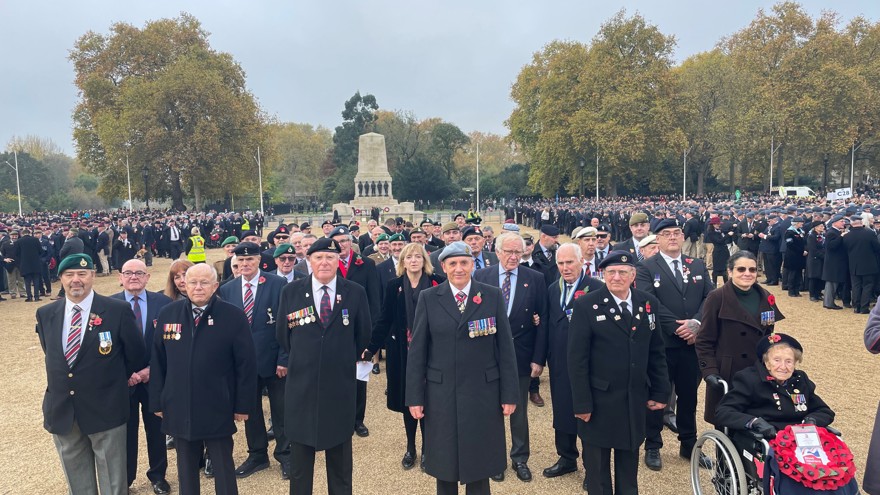 On Remembrance Day, 12 November, our beneficiaries will come together to share their experiences and remember old friends and colleagues. We will be remembering veterans like Eddie, who served on D-Day and sadly passed away earlier this year. You can read his story below.
A proud contingent of over 80 blind veterans and guides will join the march past the Cenotaph in London, and many more will attend moving ceremonies in their own communities. You can read a selection of their stories below.
Meet Mark
"Being at the Cenotaph this year is incredibly important to me, I have the opportunity to remember those who died in conflict one last time."
Last year, Mark was diagnosed with cancer and started intensive treatment but was sadly told in March there was no more that could be done. He says: "I've been told I don't have long left so this will be the last time I get to stand beside my fellow blind veterans and I am determined I will be there."
Mark served in the Light Infantry between 1984 and 1993 as a bugler, driver and infantryman. In 2011 he was registered blind. He says: "I couldn't see the point in living and was in an incredibly dark place."
In 2012 he found our charity and started receiving support. He says: "The charity helped me realise there was life after sight loss. I began to accept blindness and the support I received from my peers and the staff was a huge thing for me. You are never alone which is particularly important to me right now."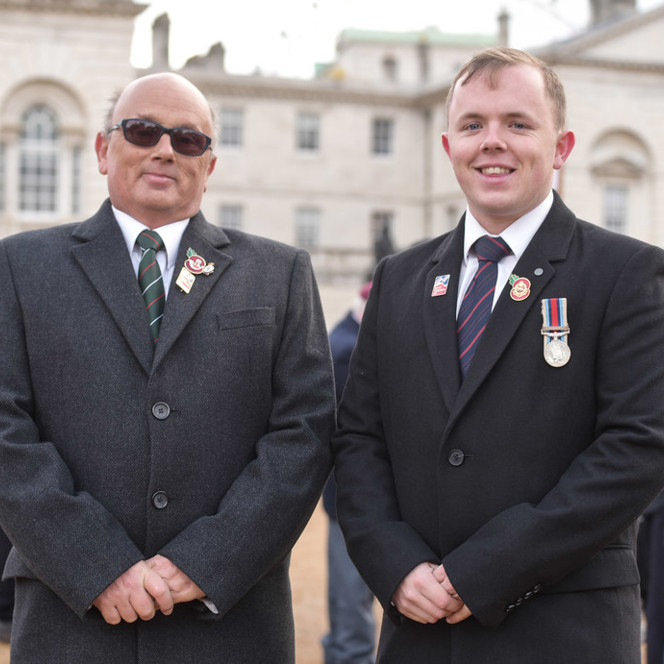 Meet Simon
"Twenty years on from the start of the Iraq War, Remembrance will be even more emotional this year."
Simon joined the Royal Electrical and Mechanical Engineers in 1997. In 2006 he was shot through the face by a sniper while leading a mission to recover six stranded colleagues in Iraq.
Simon awoke 17 days later in hospital. He had lost his left eye and was left with around 20% vision in his right eye. He recalls: "When I found out that I'd lost my sight, my world fell apart."
Fortunately for Simon, he found our charity later that year and started receiving the support he needed. He says: "The charity built up my confidence and gave me support with the pragmatic things I needed to move forward.
"I lost my sight while serving in Iraq but I also lost a lot of friends. 179 British troops or MoD civilians died during our operations in Iraq. Remembrance Sunday is the time that we should remember all of them, their families, and their sacrifice."
Simon reflects 20 years after Iraq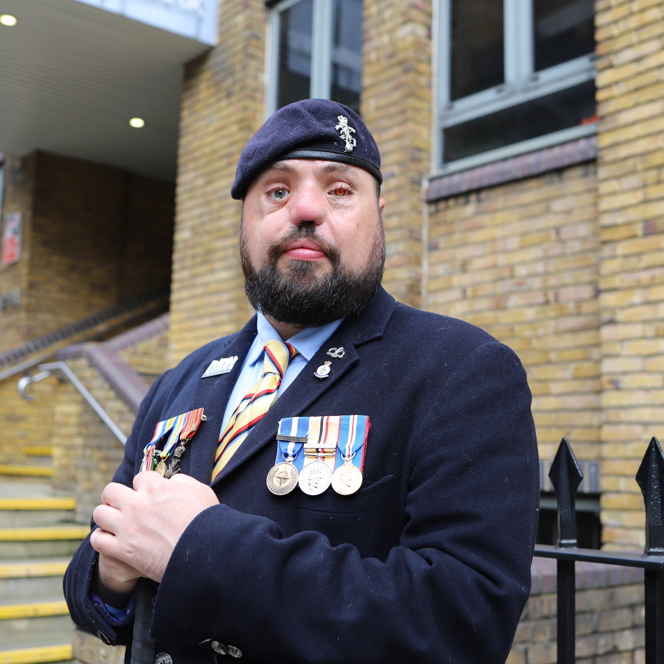 Meet Janet
"Remembrance is an opportunity to stop and think and to remind people why we don't want war."
Janet will be marching past the Cenotaph for the first time, alongside her 13-year-old great grandson, Dillon, who is in the Air Cadets. She says: "I'll be so proud to have my great grandson beside me holding my hand. Dillon is feeling a bit nervous, but has said he's honoured to be escorting his grandma."
Janet spent two and a half years with the Royal Air Force, eventually becoming a senior aircraftwoman. It was later in life that she started to lose her sight to macular degeneration. Luckily the Air Force Association put her in touch with us and she has received our support ever since. 
She says: "I joined up and haven't looked back; they've done so much for me. I've been loaned a magnifier for reading letters, I have a white stick, and talking scales to help me in the kitchen as I like cooking. The support I've had has given me back some of my independence."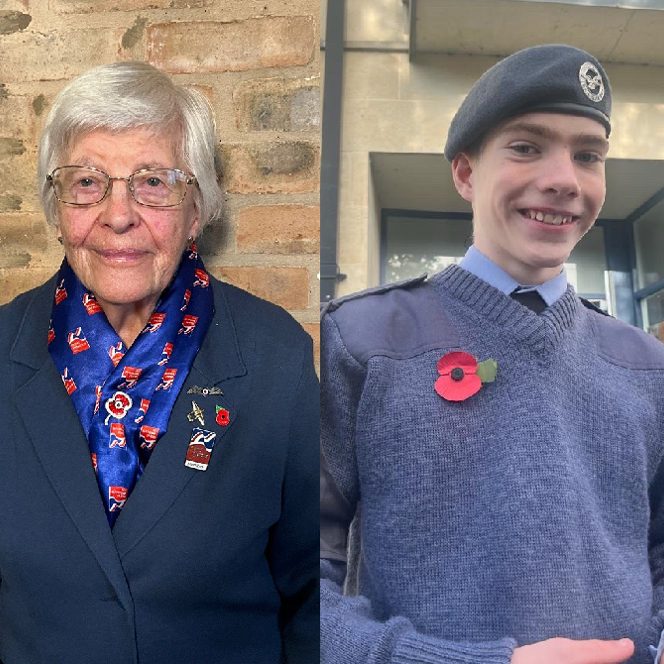 Meet Mark
"I'm so proud to have served my Queen and country and I'd do it all again in an instant."
Mark served with the 3rd Battalion Royal Anglian Regiment for seven years, including tours of Northern Ireland and the Falklands.
It was later in life that Mark started to lose his sight following an operation to remove an orange-sized brain tumour from his pituitary gland. He says: "My whole world came crashing down."
Fortunately, Mark found out about us and started receiving our support in 2022. He says: "The best thing about the charity is knowing that they'll always be here for me. It's kind of like being back in the forces and being part of a big family."
It will be Mark's first time marching on Remembrance Sunday. He says: "I feel proud. I lost my mum in September and she always wanted me to do it so I know she would be very happy."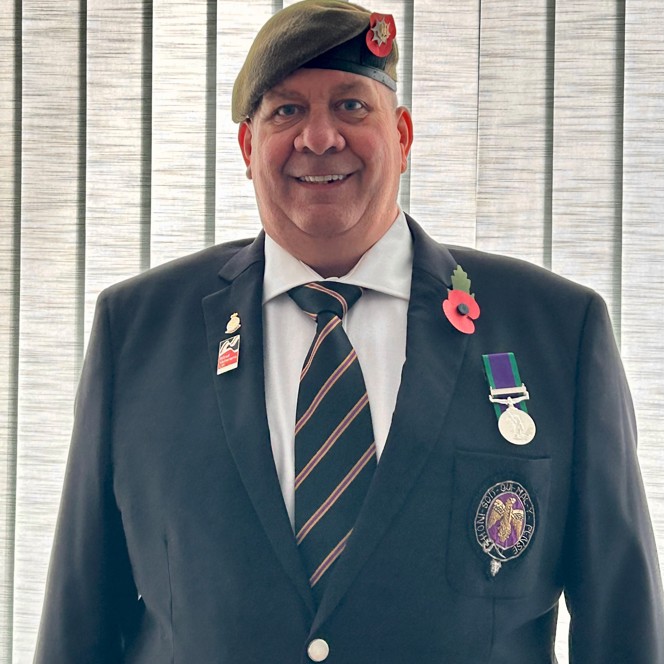 Surviving the Arctic Convoys
In this Remembrance special of our 'Unseen Stories' podcast, Second World War veteran Alec shares his fascinating wartime experiences with our Military Lead, Tim Eckersley. 
Listen now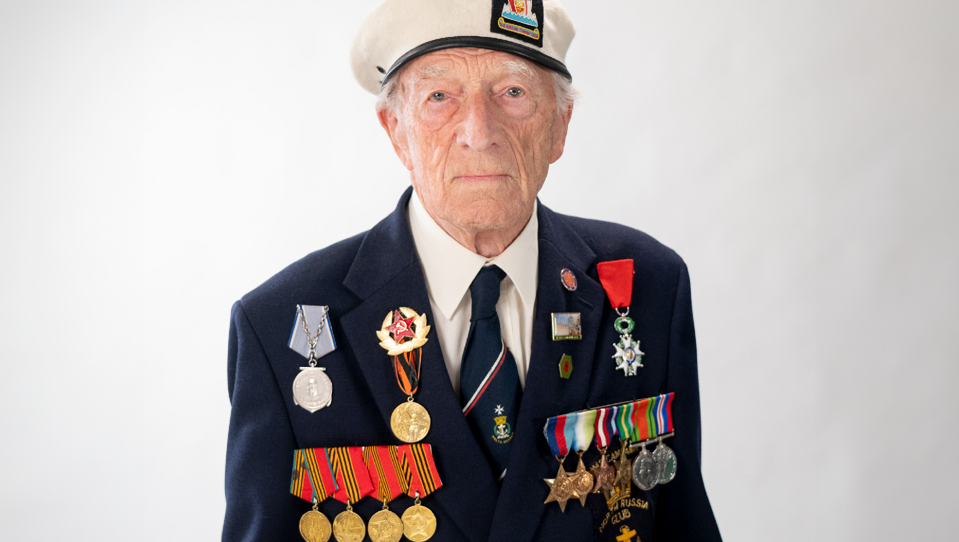 Remembering Eddie
Everyone at Blind Veterans UK will never forget Eddie, who sadly died earlier this year. D-Day veteran Eddie, who won the Legion d'Honneur for his role in liberating France, was a wonderful member of our community.
On Remembrance Sunday and every day, we will remember him.
Read Eddie's story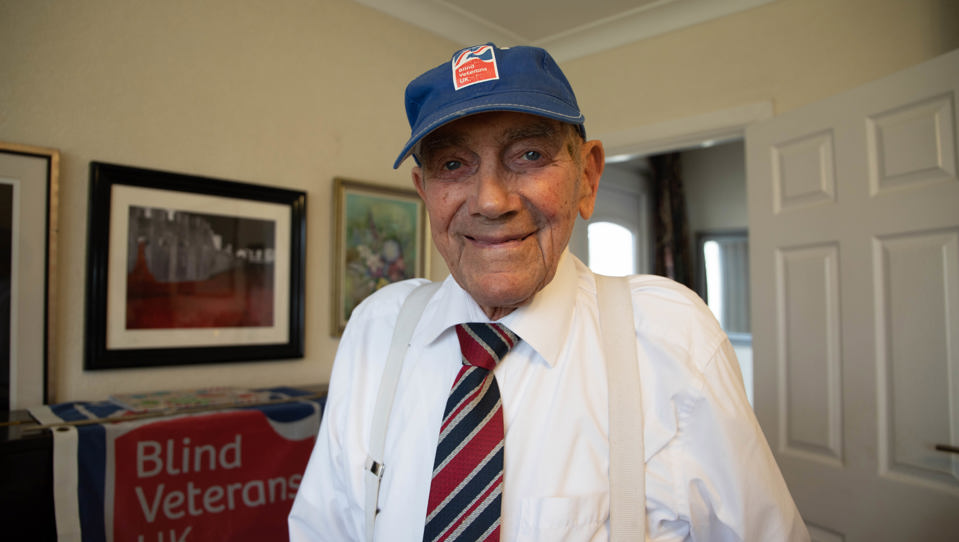 Please give this Remembrance
Help us give blind veterans the support they need to live independently.
Donate now
Need support this Remembrance?
We support veterans of all generations, regardless of how or when they lost their sight. If you or someone you know is struggling with sight loss and served in the Armed Forces at any time, including National Service, then please get in touch.
Read more
As a military charity, commemorations are hugely important to us and our veterans. Find out about our events.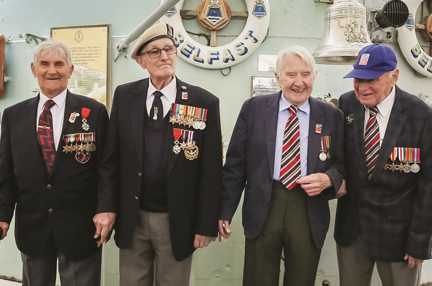 Gift a wreath so that blind veterans can be a part of Remembrance in their own communities.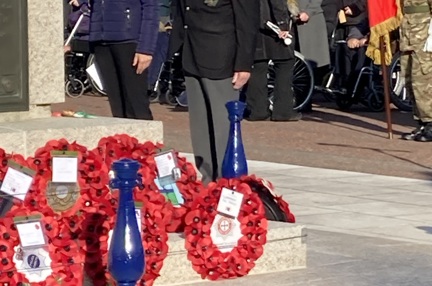 Plan an activity or event to ensure the fallen and those left behind are not forgotten.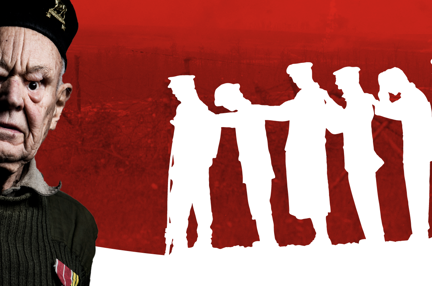 Read more veterans' stories
Sign up for email updates
We would love to send you updates about our work and how you can support us.
You can change your contact preferences at any time by calling us on 0300 111 2233 or emailing us. See our privacy policy for more details.